This guest post was contributed by Jenny Wadlow.
With so many activities around the home these days, it is no surprise that many people find their homes in utter despair when it comes to proper organisation. From papers and report cards scattered across the dining room table to groceries strewn about the kitchen, these little issues can all add up into one big mess – namely, total disorganisation of your home. In the past, home owners were left to their own devices as to how to properly clean and organise various rooms of the home. These days, though, home owners are still relying upon their own devices – their mobile devices, that is – as a variety of mobile applications have made it possible for users to quickly determine what needs to be done and create a game plan for success. Below, we will discuss three of these apps and what each can offer you in terms of home organisation.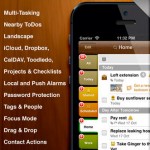 It can be difficult to know where to begin when trying to organise the home for efficiency, but there is an easy way to simplify this effort. Even if you have not decided upon a room in which to begin, you can initiate the process of documenting what needs to be done in each room so that you can then proceed to tackle these chores. The 2Do app for Apple devices can be used for a variety of purposes: from simple home organisation to commercial project management, its powerful task manager system offers an array of features. Users will be able to create custom tasks, assign to-do lists, share these lists with others via Dropbox and Google Cloud, and even initiate repeating tasks so that you are consistently reminded of regular chores. Available on the iTunes App Store for $9.99, this premium app can help its users with any home or business-related organisation task.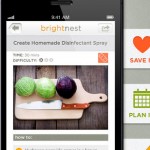 Anyone who wants to keep their home in immaculate shape without stressing over the routines will appreciate Brightnest, an intuitive application designed to work with both iOS and Android devices. Users of the app will be able to customise to-do lists with thousands of included tasks or create their own to be added as well. All tasks can be either added to lists or scheduled as regular items – if you need to be reminded to change your air filter on a regular basis, for instance, then the Brightnest app can accommodate. Also included are hundreds of DIY articles and tips on how to create homemade cleaning products, organisational cubbies and modules and much more.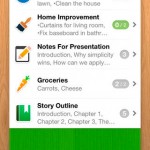 Available for $2.99 from the iTunes App Store, Paperless: Lists + Checklists is another great way to stay on top of all the regular tasks and home organisation events around your home. Users of the app can find hundreds of built-in tasks to add to lists, or can take advantage of customisation options that allow for any reminder or task to be created. Lists can be shared via email and can be password protected to prevent prying eyes from seeing your plans. This information can also be synced and backed up via Dropbox and an internet connection. Users will love Paperless: Lists + Checklists for its power to organise any home and its strong set of features.
Author Bio
Jenny Wadlow is an avid blogger who often writes for Spacewall Industries which manufactures a range of floor and wall panels in Australia. She is a fitness enthusiast and she practices yoga during her free time. You can follow her on Twitter @JennyWadlow.