This is a guest post by Ron Jaworski, CEO at Trinity Audio
The popularity of smart speakers has skyrocketed in the past several years and now it seems like almost every home and office has at least one of those things. What's more, thanks to smart speakers, more voice-enabled products are on the way, almost like it's Black Friday sale event of these things.

Why is this? First of all, smart speakers operate with the help of voice technology that is very convenient. After all, voice is the original interface, so to speak. It is way easier to just say what you need instead of having to divert all your attention from whatever you're doing, take out your phone, open an app, tap, or even type. Let's face it, who wants to type with their fingers when they can just say the words?

The technology has come to a point where there are numerous smart speaker integrations that cover virtually every part of our everyday lives. Need to start your washing machine cycle or order some groceries? Just tell it to your virtual assistant. Want to know what the weather is going to be like this weekend? Yep, your smart speaker's got you covered. What's more, the technology can actually learn about you to give you a more personalized experience and you can even upgrade it yourself through skills and actions.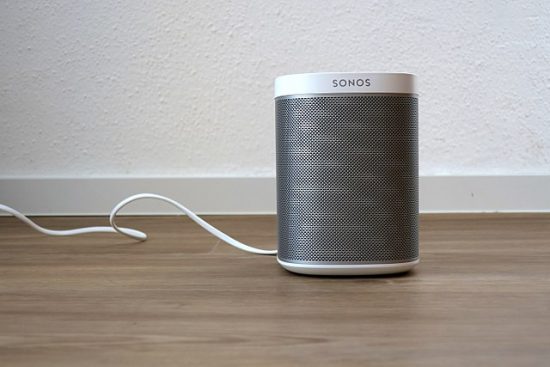 A clean floor is optional.
Numbers don't lie
To give you an idea of just how much the popularity of smart speakers has increased, I have gathered a few numbers. The first information comes from Consumer Intelligence Research Partners that analyzed the three major smart speakers: Google Home, Amazon Echo, and Apple HomePod.

The results spoke volumes (pun intended). Namely, the entire installed base of smart speakers in the December 2018 quarter was 66 million in the United States alone, in comparison to 53 million units in the September 2018 quarter and 36 million units in the December 2017 quarter. Specifically, Amazon Echo Dot held the throne with 70% of the installed base, followed by Google Home with 24%, and Apple HomePod with 6%.

Another research that produced similar results was Adobe's 'State of Voice 2019'. It also found that the smart speaker user base was growing in the US. According to the study, 36% of consumers owned a smart speaker device in February 2019. By comparison, this percentage was 28% in January 2018. In terms of usage frequency, 75% of owners used their devices at least once a day, a 6% increase since August 2018.

These conclusions were echoed in the study by the U.S. analyst company Canalys, that predicts the global smart speaker installed base is bound to reach 207.9 million by the end of 2019, a growth of 82.4% compared to 114 million units in 2018. The U.S. is predicted to keep its leading position, accounting for 42.2% of the installed base by the end of 2019.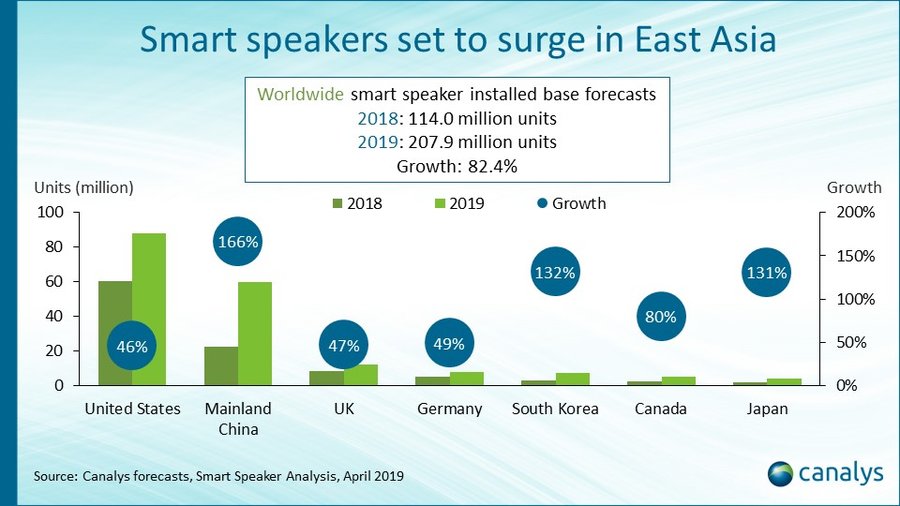 Whatever numbers you find, they all say the same story more or less – the smart speaker ownership is on the rise and is not about to falter.
What drives the rise of voice tech
Arguably, the key driver of voice tech becoming mainstream is the younger generation and their natural tendency for multitasking. This makes perfect sense as life is becoming faster and changes with each day and so do the expectations, which is why young(er) people are the ones leading the demand for multifunctional technology. This demand has contributed to the rise in usage and ownership in smart home devices as they entail this multifunctionality.

As a matter of fact, Activate's Tech & Media Outlook 2019 shows that an American adult's average day lasts 31 hours when you count together all the activities. Interestingly, 12 of which are devoted entirely to consuming tech and media with over two hours spent on audio content.

In this efficiency-oriented era, voice technology helps us be more productive through multitasking. Voice technology helps us do more things simultaneously like listening to an audiobook while making lunch or getting news updates as you're writing a report – the combinations are possible all over the place. As more people see this advantage, the adoption of smart speakers increases accordingly.

Why am I telling you all this? So that you would see the necessity to audiofy your content, be it through a third-party smart speaker integration, native web player, or something else, in order to make use of the behavior of a contemporary user. Today's audience has little time to waste, which is where audio steps in to help. It lets them listen to content while engaging in other, more or less important, activities. It is no longer enough to lean on the textual and visual approach to reach out to them – you also have to stir their auditory sense.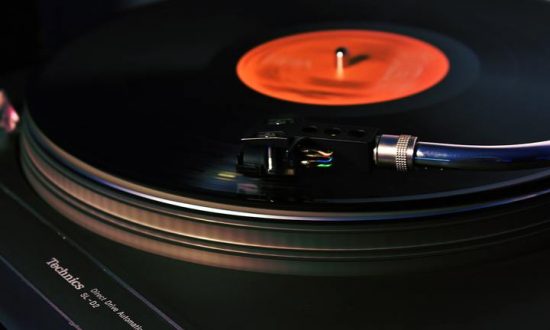 That's one way, I guess.

Audio content can be consumed without any active involvement and this is why it can successfully take the form of even long formats like podcasts. Audio content is also experienced as less intrusive, which is something to think about in terms of advertising. This was proven in the above-mentioned study by Adobe which found that 38% of consumers consider voice ads less intrusive that ads in print, on television, or online. 39% of them even said that voice ads on smart speakers are more engaging than those on other channels.

Conclusively, the personal and custom experience of audio content also offers more opportunities for brands, publishers, and advertisers to personalize and create more relevant and engaging, but less intrusive advertising strategies.
The future of voice and audio implementation
By now, it should be obvious to everyone that voice technology is here to stay and will continue to grow, driving major changes in the years to come and completely transforming interactions with our smart speakers, our homes, and eventually other people.

This development will be further contributed by the implementation of the 5G technology, advancements in natural language processing, and an increasing number of social networking platforms acknowledging the capabilities of voice and audio to create content easily consumable in various ways.

If done right, publishers and brands can use audio content to ensure their messages reach the audience on a deeper, more intimate level, creating lasting and more valuable relationships with them.
Image Credits:
https://commons.wikimedia.org/wiki/File:Sonos_PLAY_1_wireless_speaker.jpg
https://www.canalys.com/newsroom/canalys-global-smart-speaker-installed-base-to-top-200-million-by-end-of-2019
https://pxhere.com/en/photo/1560811