This guest post was provided by Stuti Trivedi
When it comes to smart locks, one can never be too late and one can never be too careful! There are so many products in the market that choosing a right one for you can become as difficult as finding a needle in a haystack!
Also, the trends in the smart security industry are changing rapidly and that is why it is important to research and be well-versed with the top products and brands that are best suited for you, once you decide to have a smart lock yourself!
It may seem like magic or a techy spy movie where your door magically opens with your fingerprints or it opens up when you are just around your door! And the great thing is, the future may not be much different than this!
Let's see some of the leading names when it comes to smart locks. The list below has 5 hit and popular smart locks that you can think of buying!
1. Yale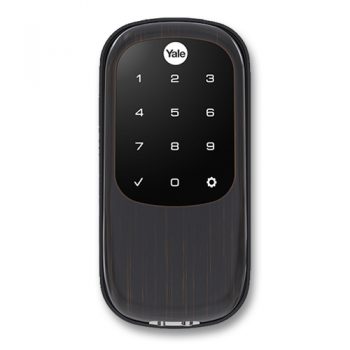 Yale is the most well-reputed brand when it comes to locks and hardware security. It has been providing high-quality locks and other hardware security products since 1840.
This model of Yale door lock called Yale Real Living Keyless Touchscreen Deadbolt is an ideal contender that gives you flexibility and compatibility to work smoothly in sync with your smart home devices.
It provides you with a modern touchscreen with a space for conventional keyhole on the board!
Here are some of the pros and cons that may help you decide.
Special Features:
Wireless
This lock uses an independent network that allows it connect to any of your smart devices like your smartphone, tablet, etc. It doesn't use your bandwidth!
Highly Compatible
As the name suggests, this lock is highly compatible with different kinds of networks like Zigbee, Z-Wave, etc. It is also easily compatible with a wide number of home automation and home security systems!
Mechanical Key
For those of you who are worried about what happens when there is no Internet, worry not! This lock can also be opened with the help of a physical key provided to the user.
Voice Control
The setup system of the product allows you to give voice-based instructions. This makes it easy to use when your hands are full or when you don't have your phone or the key.
Privacy Mode
With the help of this mode, you can lock people out and restrict them from entering your home whenever you want. You can do that using voice-controlled instructions.
Limitations:
Expensive
The only major reason that may come to your notice about this lock is that it can be a bit costly. This lock costs around $300 which is quite expensive!
2. August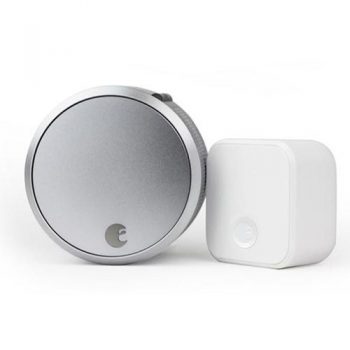 August is another household name when you talk about digital smart locks. This is because this lock is very easy to install and can easily work over single cylinder deadbolts.
They work on an iOS or Android device to provide access and security to households!
They have a very interactive application that notifies you of all the activities of the lock. The lock uses a secure Bluetooth connection for communication which means that it will not use up your bandwidth!
The most attractive feature of this lock is that it works completely fine with the existing hardware on the door. So, you don't have to make any special arrangements on your door to install it.
Special Features:
Mechanical Key
Since this lock works absolutely fine even with an existing deadbolt on your door, you can simply use a traditional key to open the door. No worries when your batteries run out!
Stylish
This lock works on the inside of your door and gives you a keyless entry into your home. This lock is also very sleek and stylish in its design.
Compatibility
You will find this lock to be extremely compatible with a lot of different smart home technologies and devices. For example, you can control August lock through your Apple Watch. You can do this through Apple's HomeKit App!
Award Winner
August has been recognized by well-known publishers like Wired, Fortune, The Wall Street Journal, etc. This clearly shows that this lock delivers what it promises.
Extra Products
Along with a smart door lock, the company provides a lot of other products using which you can upgrade the security of your home. Products like- August Doorbell Camera, August Keypad, and August Connect help you secure your home more effective when used with August door lock.
Limitations
Expensive
This lock too can be quite expensive. It costs around $199 and up! But the modern look and excellent features of the lock, make it one of the bestsellers in the market.
3. KeyNIE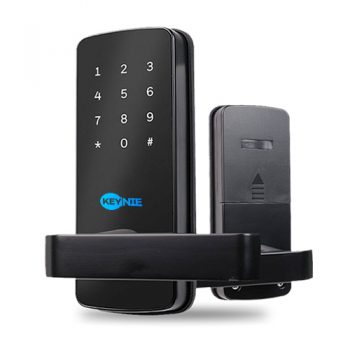 KeyNIE is a digital smart lock that allows a keyless entry to your home or property and allows to manage the lock effortlessly. This lock provides many ways of access.
The most attractive feature of this lock is its mobile application. KeyNIE Lock application enables KeyNIE to be easily monitored and managed through just a tap on your smartphones!
The application is super-interactive and user-friendly. It also provides most of the features of the lock.
By far, KeyNIE has the most interactive and easy to use application for its smart locks. It has cool features like Share eKeys, Send Passcodes to share access with people of your choice.
This sharing features also allows you to set a particular time-limit to those accesses. This way the passcode gets invalid after that particular time and cannot be used after.
There are some really good and helpful features in this smart lock.
Special Features:
Sleek and Stylish
This lock is super-sleek and stylish in its design. The acrylic touchscreen keypad and the reversible handles make it an easy and appealing choice over its competitors.
Smart
The application KeyNIE Lock makes it very smart to manage and monitor. You can easily lock and unlock the door with the help of your smartphone. Sharing or revoking the access to the door is also simple and quick!
Mechanical Key
KeyNIE is also available with a physical key that allows you to unlock it when you forget your passcode or when the batteries die off!
Customizable Access
This is feature is enabled due to an option wherein you can schedule and set a time-limit to the access. So now, when you share the access of the lock with a person, you can also schedule it.
Auto Lock
The door will automatically lock in 5 seconds after opening. So, you won't ever have to worry about whether the door remains open after you unlocked it.
Limitations
Currently only 1 variant available
KeyNIE currently has only 1 variant in the market. But the company may introduce new variants in the future. Stay tuned for that.
Not compatible with door knobs
The only serious limitation of KeyNIE can be that it doesn't work with door knobs. If you are planning to install it, you might have to change to door handles.
4. Samsung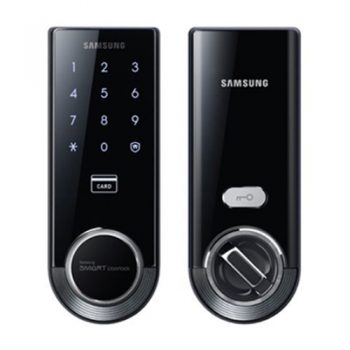 Samsung has aced in technology for smartphones as well as home-automation devices. It was one of the first companies to start innovation when it comes to introducing the 'smart' to the 'phones'!
This is the reason why its SHS-P718 digital door lock is the best option when it comes to a comparison with other such successful digital locks.
This lock is highly compatible with other Samsung home automation devices. Since Samsung has a lot of home automation devices from video cameras to sensors, you can easily integrate your Samsung smart lock with all these devices and ensure an all-around security for your home!
Another unique thing about this lock is its shape and design, which is very convenient and useful in opening the door, even if you have your hands full!
Special Features:
Multiple ways of entry (Biometric/RFID/PIN entry)
There are a lot of modes of access available to you in this lock. You can either use your fingerprint to open the door or use a PIN. An RFID key fob can also be used to access and unlock the door.
Smart
There is an application for the lock that allows you to control and manage it from anywhere.
Can fit over door handles
This lock easily fits over door handles and slows you to operate the handles as well. This way you don't have to make many changes to your door.
Impressive Touchscreen
The touchscreen is highly sensitive and impressive and gives a highly sophisticated look and feel to the product.
Limitations
Expensive
This lock is probably the costliest of all. It costs around $400. This can exceed the budget for many tech-savvy house owners out there. But this lock definitely is worth the money if you decide to go for it!
Not compatible with door knobs
This door lock is not compatible with door knobs. It only works well with door handles. You will have to change your door and shift to handles if you are planning to use this lock.
5. Schlage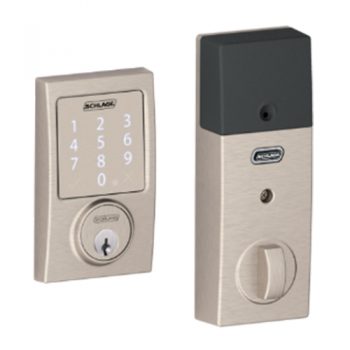 Schlage has come out with the Schlage Camelot Touchscreen deadbolt smart lock that is simple, sleek and has great quality when it comes to security.
This lock may not be the most digitized and advanced in technology, but it has got all the features that an ideal digital door lock should have.
It has a well-functioning, easy-to-use touchpad that, I believe, has helped Schlage to be able to increase the durability of the product.
Another very amazing thing about this lock is that Schlage provides a 3-year electronic warranty as well a lifetime mechanical warranty for it.
This just goes to show the confidence the company has on the durability and quality of its products!
This lock works perfectly fine on all kinds of doors. You wouldn't have to change your door unless your door is super-customized and unique.
Also, this lock has got BHMA/ANSI Grade-1 certifications which is the highest security rating in ANSI grading system.
Special Features:
Compatible
This particular Schlage lock is highly compatible with your home automation systems and devices.
Mechanical Key
This lock is also provided with a mechanical key that allows you to unlock and have access to your property if you ever forget the PIN or if the battery dies out.
Touchscreen
It has got an amazing touchscreen that is super-responsive and gives more durability to the lock.
Alert Modes
It gives you alert notifications when it senses any activity or if it experiences any tampering. It also makes a loud beep sound once someone enters your home. This way, it also gives an audible notification.
Limitations
Limited Access Codes
This lock, however, can only store up to 30 access codes, which is quite less compared to its competitors!
No App Control
Another drawback of this lock is that it doesn't have any application to manage and control it.
Now that we have discussed the top products in the market, there are some things that you, as a buyer should keep in mind before making a decision about the digital lock that you want to buy!
First of all, decide on the type of smart lock that is best for your door. There are 2 types of smart locks, namely- deadbolts and lever-style. The deadbolts are quite easy to install.
There are smart locks in the market that provide a physical key for backup and some smart locks don't! You go for the lock that suits you the best.
Smart home automation technologies are penetrating modern households at a rapid speed. This is the reason why it is important to know whether the smart lock is compatible with these home-automation devices? Whether they are compatible with your phone or not? This can happen only when your smart lock has a smartphone application that manages it! So, compatibility is a major factor that affects your choice.
Besides those basic features a smart lock provides, it is always great if there are some additional features that allow you to control and customize it according to you!
Beside these 5 smart locks, there are many other smart digital locks in the market today that may fit the bill for you. Make sure you do enough research before you buy one since security and convenience cannot be taken for granted!
About the author:
Stuti Trivedi is a smart security blogger, constantly researching about smart gadgets coming up in the market related to security of the properties. She has previously worked on contents justifying how digital door locks are the best for home security.