Packed full of features and the latest smartphone technology is the Samsung Galaxy Note9. It doesn't come cheap – starting at a penny under $1,000, it will certainly eat a chunk from your wallet. Payment plans, trade-in offers and other deals are aplenty and can help alleviate the price.
Verizon subscribers can get the Note9 for as little as $41.66 per month for 24 months. Or, pay the entire $999.99 up front. The phone can also be purchased directly from Samsung where an unlocked model is an option for those who may change carriers or want better resale value later on. Prefer Amazon? The Galaxy Note9 can also be found on Amazon at the same full prices.
Video review
Specs
The Note9 is undoubtedly a spec sheet beast. Here's a high-level overview of what's inside.
Display: 6.4-inch Super AMOLED (1440×2960, 516PPI) screen without a notch
Dimensions: 3.01" wide, 0.35" thin, 6.37" tall
Colors: Ocean Blue w/yellow S Pen, Lavender Purple w/matching S Pen
CPU: Qualcomm Snapdragon 845
RAM & storage: 6GB & 128GB ($999.99), 8GB & 512GB (+$250 / $1,249.99)
Expansion: up to 512GB microSD
OS: Android 8.1 (Oreo)
Front camera: 8MP wide-angle camera w/2560x1440p30 video recording
Rear cameras: 1x 12MP dual aperture (F1.5, F2.4) wide-angle + 1x 12MP (2x zoom) telephoto, with 3840x2560p60 video recording
Battery: 4,000mAh
Charging: USB-C fast charging, wireless fast charging
Connectivity: 802.11 a/b/g/n/ac Wi-Fi (2.4GHz & 5GHz), Bluetooth 5.0, NFC, MST, LTE cat. 18
Audio: 1x front speaker, 1x bottom speaker, 3.5mm headset jack
Water resistance: IP68 (up to 5 feet of water for up to 30 minutes)
Stylus: S Pen (4,096 levels of pressure, IP68 water resistance, Bluetooth capability for remote control purposes)
Security: rear fingerprint sensor, iris scanner, face recognition
Mobile payment: Samsung Pay (MST + NFC), Google Pay (NFC)
Voice assistant: Samsung Bixby (dedicated hardware button), Google Assistant
Those who prefer having a large amount of fast internal storage will be happy with the 512GB model, but will need to pay an extra $250 over the base 128GB model that's priced at just under $1,000. Both models support microSD cards so the storage can be further extended. No matter what, you can carry nearly every digital item with you.
Design and usability
Samsung stuck to what's best right now: a metal chassis with a glass back (required for wireless charging). Combined, the large Note9 feels as solid as can be. Quality craftsmanship and attention to detail are on display with this device and is something you'll like to see up close and appreciate.
Like most phones, the power button is found elevated along the right side. On the other is the volume rocker and dedicated Bixby button. I found myself accidentally pressing this button multiple times when taking the Note9 out of my pocket. It cannot be reprogrammed or disabled. As I don't use voice assistants, this was my only true annoyance with the device.
On the top is the combination nano-SIM + microSD card tray and microphone. The bottom is where you'll find the 3.5mm headset jack (it lives!), USB-C port, another microphone, a speaker and the slot for the S Pen.
The beautiful Super AMOLED screen is proudly displayed on the front in addition to an area for the earpiece, camera and various sensors. No notch here! There's also a pressure-sensitive section towards the bottom of the screen where, when pressed, it can act as a home button to wake the device and close apps.
Migrating to the back is where you'll find the two 12MP cameras, LED flash and heart rate sensor. Beneath all of that is the fingerprint sensor. Ideally, this would be on the front. Maybe in 2019…
Thanks to the curved sides on the back and front, this big phone is actually comfortable to hold. Phones that are smaller but blockier aren't as nice to hold. One-handed operation is also possible thanks to the comfort provided in addition to the Note9's built-in one-hand mode that is activated by tapping the home button three times. This mode works extremely well for those instances where you need to access something towards the top of the screen.
It's hard to go wrong with the design, hardware quality and usability of Samsung's high-end devices.
Display
Bringing black blacks, the Super AMOLED screen is a joy to stare at, especially at night or when using apps with dark / black modes. Thanks to the 1440×2960 resolution, text is crisp and images look great. Viewing angles are nothing to worry about. While I'm no color accuracy expert, I never found anything to look oversaturated or unnatural. Outdoor viewing is also possible once outdoor mode is enabled, which increases the brightness above its general max.
Whether you're scrolling through Twitter or playing a colorful game, the AMOLED screen on the Note9 is pleasing to stare at.
Speaker and audio
The reasonable trend nowadays is to use the front earpiece as a loudspeaker for stereo sound. Not only does audio get louder but it sounds better as there is an actual speaker facing towards you rather than out of the bottom of the phone. Though, while the latter is still the case here, both speakers are combined to provide an exceptional audio experience. Everything from listening to music and playing games sound fantastic. When the volume is maxed out, there's no clipping or distortion from the speakers.
The two speakers do seem to be tuned differently – the one on the front delivers better highs while the bottom speaker offers good mids and lows. So, depending on what you're listening to, one speaker will sound louder than the other which makes the stereo audio a little biased.
Even then, those used to a single bottom-firing speaker will be quite pleased with the audio on the Note9.
Software, apps and features
While the Note9 doesn't come with Pie, an update should be expected at some point (likely in 2019). Still, there's loads to like in Oreo that are better detailed in dedicated articles.
Some of my favorite features include (an asterisk indicates a feature not found on other Android phones):
The list-based app switcher*
An efficient one-hand mode*
Being able to swipe down and up on the fingerprint sensor to trigger the notification dropdown
Checking my heart rate in Samsung Health*
Using Edge panels to view information and open other apps*
Utilizing the S Pen to immediately take notes without unlocking the device*
Opening the camera from double pressing the power button
Being prompted to edit, share and draw on screenshots immediately after taking them*
Samsung packs a number of other features into their devices – including a game launcher – but it would become a lengthy list.
If you're looking for as many features as possible, Samsung devices – specifically the Note9 – should be at the top of your list.
S Pen
Given the phone's name, the S Pen is a nice feature to have but something I haven't found myself using on a regular basis. Sure, it's convenient for quickly writing down some notes, but for taking notes, it's more efficient to simply type into the phone. There may very well be accessibility benefits of having the stylus. Also, artists could find the 6.4-inch screen as a nice art canvas. Additionally, the S Pen can be used for simply using the phone, including scrolling and tapping.
One new addition to the S Pen is Bluetooth capability. This allows the S Pen to be used as a remote control for things such as the cameras. For those, the single button can not only switch between the front and rear cameras but also take the photos. Because this is so new, support for other apps is extremely limited though third party applications will be able to take advantage of this feature.
Even if you don't use the S Pen often, it's still handy to have and doesn't take away from the rest of the device.
Performance
Sporting Qualcomm's latest and greatest Snapdragon 845 processor combined with a lot of RAM, this phone absolutely flies through tasks. I never felt as though the Snapdragon 820 in my daily driver – the Galaxy S7 – was slow, until I used the Note9. Nearly every app I use is ready to be used immediately. Web pages load incredibly fast. Games are smooth and snappy. Switching between apps has no delay.
There's literally nothing to complain about in the way of performance and multitasking.
Battery life
Despite needing to power a fairly large screen, the Note9's 4,000mAh battery is very impressive and easily got me through two days.
My daily usage consists of fairly average scenarios, including email and social media checks plus some video watching with Wi-Fi disabled 100% of the time (so 100% on Verizon 4G LTE). I'm able to go two full days before needing to plug it in. Most phones can safely last through one day while some barely make it. If you dial your usage back a tad, you could probably make it into the third day before the Note9 has to be plugged in. Even then, supporting both wired and wireless fast charging means you can go from empty to full in under two hours.
Without needing external battery packs, the Note9 can easily last an entire day of heavy usage or multiple days with more simpler usage.
Call and cellular performance on Verizon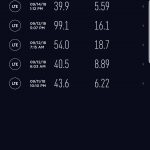 Verizon's 4G LTE network in San Antonio, TX isn't as dense as I would like, but I never had to fall back to 3G from 4G. Samsung's excellent antennas and radios combined with the good network resulted in fast speeds regardless of signal strength. VoLTE calls connected quickly and sounded fine, too.
The Note9 also supports a number of wireless tricks that can result in speedy throughput, including 4×4 MIMO, five-way carrier aggregation and more, though some items do depend on the network supporting them. Verizon disables the "field test" app for checking these things, so I wasn't able to verify what tricks were active during times of usage.
Regardless, the Note9 works flawlessly at being a phone while delivering great data speeds and call quality, seemingly regardless of network conditions.
Camera quality
Regardless of what screen I viewed content on, photos and videos looked great. The artificial intelligence ("AI") feature tries to automatically detect what's in the scene to optimize its settings, and it seems to do a nice job. Both rear cameras – one normal wide-angle lens and a 2x telephoto zoom lens – can be used interchangeably with ease, even for video. Though, video stalls briefly when switching between them. Audio quality is great during recordings too but I unfortunately didn't record as many clips as I would've liked. Similarly, I'm not a selfie person, so I didn't test the front-facing camera.
Samsung's flagship phone cameras have been widely well received and they are no different with the Note9.
Conclusion
I don't truly believe in the old saying of "you get what you pay for," but that seems really relevant here. It's not easy finding something not to complain about, but that's what's happened with the Note9. It's truly a phone that offers practically no compromises, which better be the case for something priced as high as it is. The initial sticker shock quickly fades when you start using the device. The little things – from Samsung's additional software features to the convenient S Pen – add up to something that may very well be worth it to those who are fortunate enough to acquire such a device.
If you don't mind spending a lot or are looking for a best-in-class big-screened phone, look no further and get yourself the Note9.