With a unique modular design and a premium metal body, the LG G5 takes a number of steps forward, but just a few minor steps back.
Video Review
Availability and Price
Available on all four major carriers in the US, I was sent the AT&T model to review. For AT&T customers, the LG G5 can be had for $22.97 per month (for 30 months), or $688.99 all-in. Pricing does vary by carrier, and those wishing to buy it in full can save some money by shopping around online.
Specs
Considering the G5 is LG's flagship for the year, it has all of today's top-of-the-line specs.
5.3-inch 1440×2560 IPS display
Fingerprint sensor (rear)
Qualcomm Snapdragon 820 CPU @ 2.15GHz / 1.6GHz (2/2) + Adreno 530 GPU + 4GB RAM
2,800mAh user-removable battery
32GB internal storage + up to 2TB via microSD
4G LTE / 3G / 2G support
802.11a/b/g/n/ac, Bluetooth 4.2, NFC
Android 6.0 "Marshmallow"
16MP rear-facing camera w/4K30 + 1080p30 + 720p120 video recording
8MP rear-facing camera (135-degree wire angle)
8MP front-facing camera
USB-C "3.0" connectivity
5.88 inches tall, 2.91 inches wide, 0.3 inches thick
Design and Hardware
If silver doesn't suit your taste, the G5 is available in three other colors: gold, pink, and dark gray ("titan"). Unlike last year's G4, the G5 doesn't feature an obvious curve, though the top of the phone (above the earpiece) has a slight outwards bend to it. This makes the phone easier and more comfortable to be placed on your ear for phone calls.
Physical buttons are kept to a minimum. The volume buttons are no longer on the rear, with a lone volume rocker placed along the left side, in addition to the module release button (more on that later). LG kept the power button on the back, though it now doubles as a fingerprint sensor. The button itself felt a tad loose, but I don't think it would be an issue, even in the long run. You can learn more about the fingerprint sensor below.
Above the power button are two camera lenses. One is a standard camera, while the other features 135 degrees of view, which is detailed in the camera portion of this review. Between the two is an LED flash and some sensors for focusing. Below all of these is an AT&T logo and some G5 branding.
LG opted to leave the 3.5mm headset jack at the top, just to the right of the infrared blaster, both of which are to the right of the top microphone. The right features a single card slot, capable of holding both the nano-SIM card as well as the microSD card.
We've finally made our way to the bottom, housing the USB-C port, three speaker openings, and a bottom microphone. When holding a phone in one hand, I often use my pinky as a stabilizer. Some phones are drastically uncomfortable, but the LG G5's smooth bottom edge keeps things under control.
Migrating to the front is the lovely 5.3-inch display, earpiece, front-facing camera, various sensors, and an LG logo.
Handling the G5 is quite easy; even though it has a smooth, metallic finish, there's quite a bit of grip. The same finish is on the rear, and is quite resistant to fingerprints and smudges. And because of the metal body, there's no shortage of a premium feel throughout.
Speaker & Audio
While a bottom-firing speaker isn't ideal placement on a smartphone, the one on the G5 fares rather well. It's loud, it's clear, and it's actually somewhat pleasant to listen to. For prolong periods of listening to music or movies, I wouldn't want to switch to headphones like I do with many other devices.
For regular phone calls using the earpiece, it too gets loud, and handles the job well.
Display
Like I mention in my other reviews of mid-to-high-range smartphones, I believe that displays are hard to improve upon. The IPS panel on the G5 is bright, works well outdoors (at maximum brightness, of course), has great viewing angles, and is all-around an eye pleaser.
Software, Apps and Features
With Android 6.0 "Marshmallow" on board, LG made sure to add their own set of customizations. One controversial change was the removal of the app drawer, resulting in apps only being accessible from the home screen, much like an iPhone. Standard LG features include double-tap to wake, custom stock applications (mail, phone, settings, etc.), pop-out app multitasking, smart resource cleaning, and a handful of more low-key features. LG's overall impact to stock Android really isn't bad at all, and everything works together well.
An infrared blaster is located at the top of the G5. The IR blaster can be used to control televisions, cable boxes, game consoles, and much more. With some smartphones removing this feature, it can still serve a purpose to a number of users, including myself, so it was nice to see this feature hang around for at least another year.
The G5 is the first LG smartphone to feature a fingerprint sensor. Its inconvenient placement on the back of the device might feel natural when you're already using the device in hand, but is quite an annoyance when it's flat on a table, or in a dock, or being used in a car mount. Regardless, the sensor itself performs quickly and has proven to be accurate. Aside from waking and unlocking the phone, your fingerprint can be used to authorize app downloads, media purchases, NFC payments, and more.
LG tried something radically different with the G5 in that it features a modular design. This means that you can replace the bottom portion of the device with an accessory. The button on the left is what's used to unlock the bottom portion of the G5 with other accessories. While the modular accessory selection is still extremely limited, it does have some potential, however it's questionable as to whether or not first and third parties will take this feature to where it should be.
One compatible accessory is LG's CAM Plus. If you take photos often, the $70 accessory adds a more traditional camera feel to the device. With a grip to help snap better photos, it also features several physical keys and scroll wheels, including a dedicated camera launch key, on / off zoom key, a two-stage camera shutter button, and a dedicated video recording button. At this price, you'd think that it includes an additional battery, but it unfortunately does not.
Performance
Performance is a complete non-issue with the G5. Everything is fast and smooth across the board, including UI scrolling, launching apps, playing games, and everything in-between. The fast CPU and GPU paired with 4GB of RAM means that you can more efficiently switch between applications that are kept in memory.
I take that back. One area I felt the G5 fell short was with USB file transfers. While LG claims it supports USB 3.0 speeds, they seemed well within USB 2.0 range in my testing. This was despite being plugged into a USB 3.0 port on a desktop computer that otherwise always works properly with USB 3.0 devices.
Battery Life
As of a few smartphone reviews ago, I stopped keeping track of actual battery numbers and charts. This is because usage scenarios are completely different between users, and numbers only tell part of the story. I prefer to give general battery observations, which I'll do now.
My usage typically consists of Twitter checks, email fetches, text message replies, and other general tasks done at 50% brightness. There's also an hour or two of full-brightness 4G LTE video streaming. Throw in some light gaming, and I was left with 30-50% left at the very end of the day. I feel completely comfortable going into a second day of lighter use if needed. Heavier users will be limited to a day (or less), while even lighter users could probably make it through two or even three days of being unplugged. There's a battery saver mode for those who don't mind disabling some minor features, such as background account syncing.
Need a quick battery boost? The G5 supports Qualcomm's Quick Charge 3.0 technology. According to GSM Arena, you can get an 83% charge in just 30 minutes. In my testing, I noticed anywhere from 50-70% in 30 minutes with no screen-on usage. Regardless, this is quite incredible, and should continue to improve as technology advances.
Alternatively, the G5 is one of the rare flagships that still features removable batteries. This comes via the phone's modular attachment system. You can theoretically keep a pack of charged spare batteries in various places so that you never run out of juice. What would've been nicer is a permanent, internal battery that keeps the phone powered on for 30 seconds or so while you're swapping out the main unit.
Call and Cellular Network Performance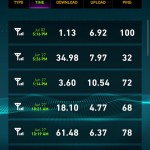 I have no complaints regarding the G5's cellular performance. Data speeds rival those of other AT&T devices in my area, call quality was loud and clear, and texts came in and went out with no problems.
Camera Quality
LG continues providing users with great cameras on their smartphones. While some may find the 135-degree, wide-angle camera to be sort of a gimmick, I found it to be very useful and quite practical. Just take a look at the sample gallery above to see some comparisons. That same wide-angle lens can be used for video recordings. Even better is that you can switch between that and the normal lens during the recording.
General photo and video quality was excellent, including low-light images. For most of my images, I left HDR mode on, as photos looked noticeably better that way. Those who want to get even more detailed can do so via the camera app's pro mode, allowing you to change a wide variety of different photo options, such as ISO and white balance. Optical image stabilization (OIS) is present on the main rear camera, and is quite evident for both photos and 4K video recordings.
Considering the G5 can record 4K video at 30FPS, it doesn't record at 1080p 60FPS. Support for this frame rate and resolution combination is also iffy on other Android smartphones, but it still seems odd not to have this option. For slow-mo videographers, you can record 1280x720p video at 120FPS, or 320x240p video at the same frame rate.
Conclusion
While it's not bombarding the user with features, LG has provided enough in the G5 to keep it unique and competitive. Not only does it have an excellent camera, its premium, non-slippery body, fast performance, great battery life, and simple user interface all helps plant the G5 as a 2016 smartphone that can certainly be recommended.
Feel free to follow Brian and Gadget Unit on Twitter.