As time progresses, smartphones will continue to provide quite a bit of power at low costs. NUU Mobile's X3 ($179.99 from NUU or $149.99 from Amazon) is an example of one such device, one that happens to be up against quite a few others in what's continuing to become a crowded market.
Video Review
Availability and Price
You can purchase the X3 directly from NUU Mobile right now for $179.99. If you'd like to save some money, Amazon, at least at the time of this review, is selling it for $149.99, complete with Prime shipping. The device is unlocked, allowing you to use not one, but two micro-SIM cards for use on GSM carriers. I tested the X3 on T-Mobile U.S. using both micro-SIM slots.
Specs
One thing to keep in mind is that this is for those whose budgets are relatively low. With that out of the way, here are the X3's specs.
4.5-inch 540×960 resolution IPS display
Qualcomm Snapdragon 410 quad-core CPU @ 1.2GHz, 1GB RAM
2,000mAh removable battery
8GB internal storage, microSD card slot (up to 32GB)
4G LTE (bands 2/4/17), 3G (bands 2/4/5), 2G (bands 2/3/5/8)
Dual micro-SIM trays (tray 1: 4G LTE/3G/2G, tray 2: 2G)
802.11b/g/n (2.4GHz only), Bluetooth 4.0
Android 4.4.4 "KitKat" (Lollipop expected sometime during the Summer)
8MP rear-facing camera with 720p30 video recording
2MP front-facing camera
5.25 inches tall, 2.6 inches wide, 0.36 inches thin, 4.8 ounces
Design and Hardware
With these dated specs come a dated design. While that sounds bad, it's actually not, as the device itself is very usable. The X3 is made of plastic, but it feels quite solid and delivers a fair amount of grip. If you don't like the black back cover, a white model is available as another phone purchase, though I'm not sure why NUU isn't offering it as a standalone accessory. Or, even better, include both color back plates. NUU is also selling some TPU cases at $20 each, which I personally believe is a tad bit much, given the type of smartphone that it's expected to protect. $10 would've felt more reasonable.
For the tour, we'll start with the left side of the X3. Here, you'll find the volume rocker, which offers a fair amount of feedback when being pressed. The same goes for the lone power button on the right side. Unfortunately, the top is where you'll find the 3.5mm headset jack and the micro-USB 2.0 port. I personally prefer these ports to be on the bottom, but others may prefer their current location. The only thing you'll find at the bottom is the single microphone.
Along the front is our 4.5-inch display, 3 touch buttons below the screen for navigation (menu/home/back), an earpiece up top, an LED indicator, the 2MP front-facing camera, and some sensors. Lastly, the back features the 8MP rear-facing camera, LED flash, some NUU branding, and the speaker.
Speaker & Included Earbuds
When it comes to speakerphone calls, the speaker does a decent job at providing something loud enough that you can hear from a reasonable distance. For music listening, it doesn't fair as well. It's clear, but not quite as loud as you'd like for a quality music listening experience. Using headphones or an external speaker is certainly recommended.
Speaking of which, the X3 comes with a pair of earbuds. They feature a flat cable, which minimizes the amount of tangling that you may encounter. Audio quality is rather poor, but is usable for those who just want something that works. They also have an integrated microphone with control button. A single press will answer calls. While on a call, another single click will mute your microphone. Holding the button for a second or two and letting go will end the call, though this isn't very consistent. For controlling music, press the button once will play a song. To stop it from playing, you have to do the same thing as if you're ending a call. It's not the most obvious system around, and did take a while to find out. At first, I thought that it was impossible to end a call or stop music from playing.
Display
Even though the resolution of the screen isn't that high, it's still quite a respectable display. If you're used to displays with higher pixel density, it may take some getting used to, but text was still generally clear, and viewing videos wasn't a bad experience whatsoever. The display is an IPS panel, so it keeps color saturation to a reasonable level while also doing a good job when it comes to proper viewing angles. Outdoor use is something that can be done, too. I also found the responsiveness of the touch screen to be just fine.
Software, Apps and Features
Even though the X3 runs an older version of Android, it doesn't necessarily feel too dated. It's about as close to stock KitKat as it can get, meaning you don't get any device-specific features or any carrier bloatware. This allows you to keep things as simple as possible without being overwhelmed. If you've ever used stock Android, you'll feel right at home. As mentioned in the spec list, an Android Lollipop update is expected to be available sometime in the Summer.
I did have a few issues with the screen that I believe are related to the software, rather than the screen itself. One issue was that, as soon as I started a phone call, the screen turned off. I could hear that the call was going on in the background. Even after the call ended, the screen still wouldn't turn back on. After setting it down and coming back to it after about 10 minutes, everything appeared to operate as normal. The second issue was similar, but to where the screen turned off out of nowhere, but came back on within a few minutes.
Performance
Because we have decent specs paired with a stock version of Android, everything performs extremely well. I don't have any complaints when it comes to apps launching slowly, or multitasking slowing down, or web pages loading slow. Everything just performed as you'd expect a device from 2015 to perform, even though its specs aren't the greatest or most cutting edge. Games that were heavy on the visuals didn't perform as well as on newer devices, though they're still certainly playable.
A few additional things to point out is that NUU mentions "multitasking" several times throughout the X3's product page. Considering the only way to access the multitasking interface is to tap and hold on the middle touch button, rather than using a dedicated multitasking key, I don't think they should've pushed the multitasking term as much as they did. Additionally, having 1GB of RAM does limit how far you're able to take the multitasking capabilities.
Battery Life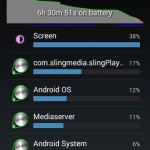 One of the weakest points of the X3 is that its battery life is very inconsistent and unpredictable. In fact, of the many smartphones I've reviewed over the years, the X3's battery performance may actually be the worst I've ever experienced.
When actually using the device for daily tasks, I was lucky to get through most of the day before it ran out of juice. Standby time was odd, sometimes losing as much as 50% overnight, while some days standby time was fine. With light usage, I generally made it through the entire day, assuming standby time wasn't acting up. Start doing things that require more horsepower, such as LTE video streaming, and you can easily drain the battery within an hour or two.
To make things even worse, there were a few instances where the phone would shut itself down after reporting there being nothing left. Yet, I was still able to power it back on, and greeted with 6% left. There were also some instances where it just powered off out of nowhere, a few times of which I wasn't even doing anything intensive. This type of battery performance could be a concern for many. I also had an issue with my initial X3 unit (yes, I received two) where, out of the box, the device simply wouldn't turn on, even after being left plugged in. It eventually turned on after some time, though it would then shut itself off with anywhere from 10-25% battery left.
Call and Cellular Network Performance
Call quality through the front earpiece is fine, and people reported they heard me just fine, too. As there is only one microphone, speakerphone calls are impossible, unless you place the bottom of the phone (where the only microphone is located) right in front of your mouth. Even from less than a foot away from the bottom microphone, there's hardly any sound being passed into it. The X3 doesn't support HD Voice calls, nor does it support VoLTE. Additionally, it doesn't support Wi-Fi Calling. All three of these things generally require carrier-specific updates, however.
4G LTE performance was just fine, with speeds at what I would expect for my area. Interestingly, there were a number of instances where the data connections would simply stall or stop responding. This was most noticeable during speedtests, where the app would just say "network communication error" roughly halfway through the test. One could place the blame on the network, but I experienced similar issues when using Wi-Fi for tests.
Using a device with two active SIMs is interesting, especially considering this was my first experience with such a unit. I populated both micro-SIM slots with T-Mobile SIMs, both of which operated fine afterwards. Of course, the second SIM tray only operates at 2G data speeds, making it primarily suitable for calls and texts. The first slot utilizes all of the different types of data networks. Android allows you to use both together, prompting you to select SIM 1 or SIM 2 when placing a call or sending a text. All of this is very useful for those who don't want to carry multiple phones around with them. Screenshots of this can be found in the software screenshot gallery above.
Most of the time, the X3 held onto weak LTE signals just fine, though it did fall back to 3G/"4G" HSPA+ from time to time. Interestingly, there were times where I'd put the X3 into my pocket, pull it out some time later, and SIM 1 would have a weak 3G signal while the 2G SIM would have no service. A few moments later, everything's back to normal.
Camera Quality
While not as disappointing as battery performance, camera quality from the rear-facing camera was generally poor to decent, perhaps worse than what you'd find on other devices with similar prices. Photos were taken generally fast, but the overall quality is more along the lines of "good enough."
Video quality was even more disappointing. Despite the sensor being 8MP, you only get 720p video recording at 30FPS. Even at that resolution, nothing appears to be crisp or fully in focus. You can't tap to focus, so the camera will try to attempt to focus whenever it decides it's best, which isn't very often. Audio quality was also poor.
Conclusion
Unfortunately, it's hard to recommend a device that seems to have a number of small and large issues. From the screen turning off to having unreliable battery life, it's just a very unreliable device to use. There were times when using the device were actually pretty great, but the above issues eventually started working their way in. You can find an unbranded, generic version of the X3 from wholesale websites, such as Alibaba, among many similar devices with practically the same specs and designs.
Like mentioned at the beginning, the sub-$200 smartphone market is getting more crowded every week. For the price of the X3, there are more reliable and worthwhile options available. So if your budget is strict, you may be better off with other devices. The next smartphone bump happens in the $200-$300 range, where specs and hardware quality dramatically increase. My recommendation? Look into an alternative device if you're set on something under $200, or begin looking into sub-$300 devices.
Feel free to follow Brian and Gadget Unit on Twitter.