Made specifically for the iPhone 5/5s comes olloclip's 4-in-1 photo lens (Amazon), as well as their protective and versatile quick-flip case (Amazon). Both can be had for $69.99 and $39.99 each, respectively.
Video Review
Product Photo Gallery
You can expect the olloclip 4-in-1 photo lens to be made with quality in mind, thanks to its "aircraft grade" aluminum and "precision-ground, coated glass" optics. Everything is seamless, and works very well together.
It's called the 4-in-1 photo lens because you get four new lenses to play with, including the wide-angle, fisheye, 15x macro and 10x macro lenses. Two of the lenses are integrated into the base (or mount) itself, while the other two unscrew from it. The wide-angle lens screws above the 10x macro lens, while the fisheye lens sits above the 15x macro lens.
Now the way it works is that you simply slide the olloclip over the camera area on your iPhone 5/5s. Be careful if you have a screen protector, because if it's too thick, the olloclip will easily lift up on it, which can cause some damage to where you'll need a new screen protector. If you're rocking a tempered glass screen protector, I can't imagine this working.
The olloclip isn't limited to any specific camera application, meaning it will work with any app you want. This allows you to be incredibly creative for not only photos, but videos as well.
From my basic sample photo gallery below, you can come up with some pretty unique photos by just using the olloclip and the phone that you carry with you everywhere. There are also some sample video recordings within the video review towards the top of this post.
I personally found myself enjoying the fisheye lens the most, because it can fit much more into view while also, obviously, adding the fisheye effect to the photo. The macro lenses are interesting, but a bit tricky. This is because focusing can be a challenge. I recommend taking your time focusing in on an object while using the macro lenses so you end up with a shot that's not blurry.
Sample Photos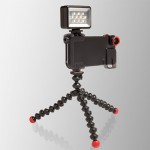 But there's also the quick-flip case, giving your phone some protection while using the olloclip while also adding a few tripod mounts and a cold shoe mount to the case, allowing you to take a more pro-level touch to photos and videos. You can see an example of what you can use these features for in olloclip's usage image to the right.
The flip portion of the quick-flip case actually folds back enough to where a portion of it is sitting right above the volume up button. Since that particular button is used within iOS to take photos and start/stop video recordings, you can push on that piece of the case to actually achieve those things. While I didn't use the case too often, I would certainly recommend it for those who wish to use the olloclip for long periods of time, so that your phone has some added protection, rather than having no case on it at all.
The olloclip is certainly a unique accessory for the iPhone, albeit a pricey one. You can actually find similar (see: less elegant) solutions from the likes of Amazon and eBay for a fraction of the price, but the olloclip seems to be the best all-in-one solution out there for the particular set of lenses that you're getting. If you can shell out the $70+ for the lens, you'll be sure to have a lot of fun trying to take some fantastic and unique looking photos and videos. The quick-flip case is a nice optional component to all of this, but seems better suited for those who are looking to use the olloclip often for the added protection and features.
Feel free to follow Brian and Gadget Unit on Twitter.