iPhone sound amplifiers aren't new, but the designs and materials that they're made out of continue to change. By en&is comes the Megaphonemini, a completely ceramic passive amplifier for iPhones. It's the successor of the seemingly successful Megaphone.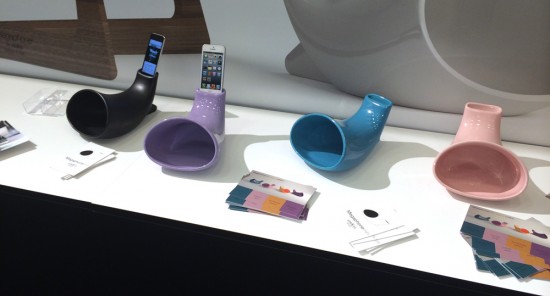 Versus the larger Megaphone, which was made to be more of a design piece for people's homes or offices, the Megaphonemini is made to be portable, with en&is saying it "can be safely carried in your bag or backpack, ideal for listening to music at park during a picnic or at the beach while tanning, without any electrical supply."
While I was only able to test it in a loud convention center, it did greatly amplify your iPhone's audio. Since it's not a dedicated speaker, don't expect the audio quality to be that great, however.
The Megaphonemini is currently listed as "coming soon" with an unknown price.
Feel free to follow Brian and Gadget Unit on Twitter.