T-Mobile has just wrapped up some major announcements for them as a company. Their main focus is now on the customer, unlike other carriers, such as AT&T. One issue with the traditional carrier is with its confusing, often overpriced plans and rates. T-Mobile has solved this by introducing their new "Simple Choice" plans, which are contract-free and hassle-free plans for all. T-Mobile's new plans are, in most cases, cheaper than the likes of AT&T, Verizon, and Sprint.
T-Mobile also announced plans to carry the iPhone 5, Galaxy S 4 and HTC One, as well as their LTE plans, with some cities going live as early as this morning.
The Plans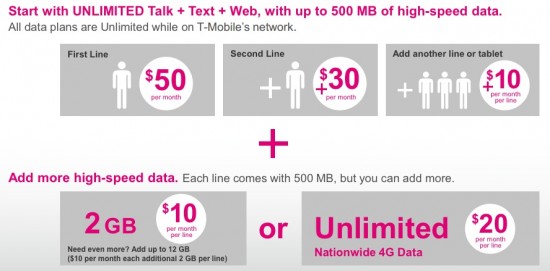 These plans are as simple as they get. Instead of spelling each one out for you, you can refer to T-Mobile's graphic above for all of the details.
As an added bonus, the 500MB and 2GB data plans have tethering included. The unlimited plan, though, has just 500MB of tethering, but you can add 2GB for $10/month or 4GB for $20/month, all of which are quite respectable. Also, for the unlimited plan, you'll expect completely unthrottled speeds, as long as you aren't abusing the network. T-Mobile didn't exactly explain what they meant by that, but one could assume things like torrenting wouldn't be allowed. They also mentioned that some users have used as much as 50GB of data without being throttled.
One important thing to note is that, when purchasing a smartphone, you'll have to pay $20 per month for 24 months to pay off the phone, rather than paying for a subsidy or full-price up front. You will, however, have to pay $100 up front. This might seem like a bad deal, but over the course of a standard 2-year contract, you can actually save a bit of money.
To put this into perspective, T-Mobile has supplied their own graphic to explain the potential savings.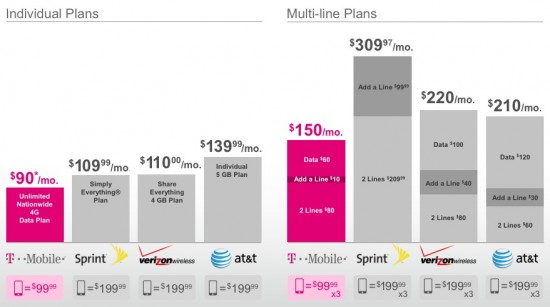 T-Mobile's individual plan example includes their unlimited everything plan and a standard smartphone at about $100. The standard price for the unlimited everything plan is $70, plus the $20/mo. for the smartphone. Over the course of two years, this comes out to be a grand total of $2,260. For AT&T, that's roughly $3,560, a rather huge leap in savings.
The Phones
T-Mobile's lineup of LTE-capable devices is quite strong, now consisting of the iPhone 5, Galaxy S 4, HTC One, and the BlackBerry Z10, in addition to the already-available and LTE-capable Galaxy Note II. The iPhone 4S and iPhone 4 will also be available on T-Mobile.
iPhone 5, 4S, and 4
Of the four major carriers in the United States, T-Mobile was the last to get the iPhone. One unique thing about T-Mobile's version is that, compared to other iPhone 5s in the United States, theirs will support HD Voice, offering "crystal-clear high-definition calling and significantly reduced background noise." The iPhone 5 costs $99.99 down plus $20/month for 24 months. If you want the iPhone 4S, that'll be $69.99 down plus $15/month for 24 months, with the iPhone 4 priced at $14.99 down and $15/month for 24 months.
The iPhone 5 on T-Mobile will be available as early as Friday, April 12. If you're anxious to get it as soon as it's available, pre-orders will be available one week earlier at this page.
Galaxy S 4
Exact pricing and availability are currently unknown, but T-Mobile says that it "will be available in the second quarter of this year."
HTC One
HTC's latest smartphone masterpiece will be on T-Mobile later this Spring, with exact pricing to be announced soon.
BlackBerry Z10
It's been nearly 2 months since the announcement of the BlackBerry Z10, and T-Mobile has it available right now for $99.99 down and $18/mo. for 24 months, making it just a tad bit cheaper than the iPhone 5.
LTE
Last up on the list, T-Mobile's LTE network. They're the last of the four major U.S. carriers to turn on their network, which went live this morning in the following 7 cities:
Baltimore

Houston
Kansas City
Las Vegas
Phoenix
San Jose
Washington D.C.
T-Mobile is expecting to cover 100 million users within the next few months, and aims to double that figure by the end of the year.
In terms of performance, T-Mobile claims that it is on-par or faster than their AT&T and Verizon competitors.
Source: T-Mobile (1), (2), (3)
Image Source: Engadget