A little more than four years after Sling's previous Slingbox release comes their 350 (Amazon) and 500 (Amazon) units, each offering a number of new features and improvements over their predecessors. Specifically, with the Slingbox 500, things were taken up to an all-new level for Sling, namely with the unit's included SlingProjector support. Nevertheless, if you're unfamiliar with the Slingbox, it's a physical set-top box that allows you to connect various video sources, such as an HD cable/satellite box, and stream whatever's being outputted from it to your mobile devices, including your computer, smartphone & tablet, in near real-time. The Slingbox 500 is Sling's latest creation, and it's worth a visit. It's a bit pricey at $299.99 so, hopefully, this post will help you in your purchase decision. Our video review is also embedded in this post towards the bottom.
Note: The non-press images that you see embedded into this post are screenshots that were taken from our video review, which you can watch in it's entirety at the bottom of the post, which we recommend viewing!
60FPS Video? Yup!
For this type of device, the internal specifications are unknown and aren't really necessary. All you really need to know is that this puppy supports streaming live video at up to 1920x1080p resolutions at 60FPS. Yes, sixty frames per second. As far as I know, nothing out there is capable of doing this, and it's not documented anywhere that the Slingbox 350 and 500 units are even able to do this, but they do. This is great for those who watch live sports, soap operas, game shows or news broadcasts, as those are all typically broadcasts at 60FPS, which results in ultra-smooth video playback. However, it requires more bandwidth than the 30FPS playback setting, and it's not compatible at all with the Mac version of SlingPlayer, but only for Windows. Mobile devices, such as smartphones and tablets, are limited to 30FPS playback via the SlingPlayer Mobile application. More on all of this in a bit. For a 30FPS vs. 60FPS comparison video, please refer to the raw video link that's in the description of this video:
Packaging/What's Included
Included with the Slingbox 500 is "everything but the kitchen sink," as you really do receive everything that you need to quickly get up and running. Inside of the box are the following:
1x Slingbox 500
1x Slingbox 500 remote control
1x Quick-start guide
1x Composite [SD] video cable
1x Component [HD] cable
1x HDMI [HD] cable
1x Stereo audio cable
1x Ethernet cable
1x Power supply/AC adapter
1x IR blaster
From the list above, you get every type of cable that can be plugged into the Slingbox 500 already included with your purchase, which is excellent to see.
While the Slingbox 500 features an integrated IR blaster, an external one is provided to you in the box, just in case you need to control a device that's further away from your 500 than needed.
Design
When the Slingbox 500 was first announced back in October, many criticized the design of the unit, with most of them claiming it was "ugly." In my opinion, the Slingbox 500 is sexy. It's fresh, unique, and ultimately different from just about anything that you'd see that's supposed to fit in with your other home entertainment gear.
In terms of dimensions, it's fairly compact, especially compared to previous Slingboxes. It's also light, so it'll fit well with your other set-top boxes.
One thing to note is that the unit will get fairly warm, but not hot. In other words, you shouldn't be worried about the heat that it produces. If you are, you could get a laptop cooling fan and set the Slingbox 500 on top of it. Or, do what CNET did here, where they took a standard 120mm~ computer fan and placing it on their entertainment center to help remove any warm air that might be inside of the particular cabinet. But, again, doing that might be a bit excessive.
Setup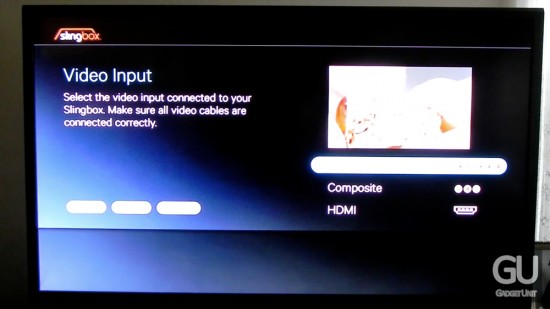 Getting your Slingbox configured has never been easier. The 500 is the first (and only) Slingbox that sports an on-screen setup interface, making it simple to configure your input sources and network information. With other units, you'd have to use a web-based configuration application for setup purposes, which could be hit-or-miss. Because of this new setup procedure, this is also the first (and only) Slingbox to support its own remote control. It's also used for other things, which will be outlined later.
But, before you do any of that, you have to make sure that your input video sources are correctly setup. The Slingbox 350 and 500 are the first units to support HDMI. Because of this, using the HDMI output is required, regardless of whether or not you're actually using an HDMI output. Don't worry, as you'll still be able to use the composite or component outputs after everything's configured; HDMI out is only needed for setting things up and if you're actually using an HDMI input.
HDMI/HDCP Information
Speaking of HDMI, depending on whether or not your input device is using HDCP, or High-Bandwidth Digital Content Protection, you may or may not have issues when using it. In my case, my Time Warner Cable HD cable box does use HDCP, so nearly every high-definition channel wouldn't display a correct picture through the Slingbox 500. Because of this, I simply resorted to using component and, in most cases, you won't notice any difference in quality.
Using the Slingbox 500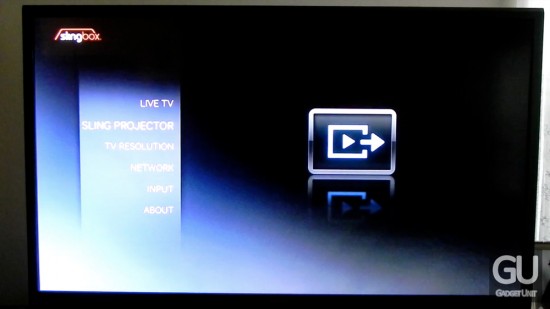 The menu system of the Slingbox is mainly used for configuring the unit. Aftewards, the only menus you'll need to pay attention to are Live TV and SlingProjector. Live TV is obvious, which allows you to watch your input device in real-time, as the Slingbox then essentially acts as a direct passthrough.
SlingProjector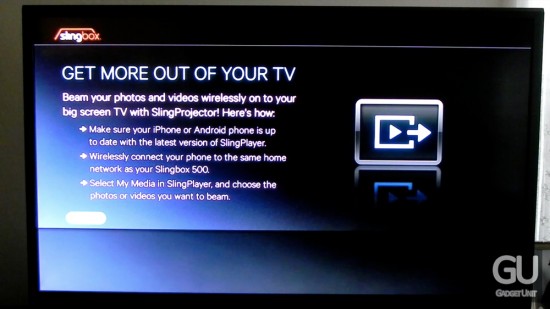 SlingProjector is a feature that's exclusive to the Slingbox 500. What it allows you to do is to stream photos and video content on your smartphone or tablet to the Slingbox 500 over your local network. The $14.99 app is required, however the feature itself works rather well and without problems. You can also use the USB port on the back of the Slingbox 500 for media playback.
Streaming Live Video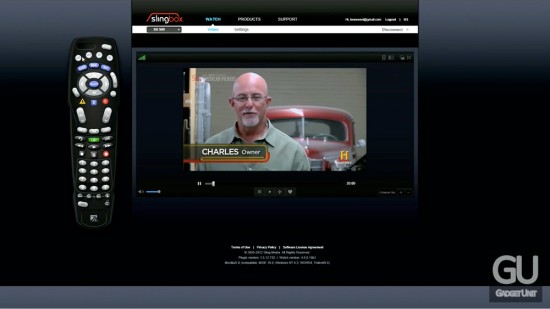 Ah, the good stuff! Fortunately, if you have an Internet-enabled device, chances are that you'll be able to watch live video from your Slingbox. This means that you could be on the other side of the world (or in space, for that matter) and access, for instance, your live cable box feed. Even better, it can be controlled via the Slingbox 500's internal IR blaster. The delay between what's outputted from your video device and what you see on your own screen is fairly minimal given the conversion process that's done by the Slingbox 500 itself. Typically, it's anywhere between 2 and 15 seconds.
For the computer, your streaming options can be done from right within your web browser by using Sling's web-based streaming site, which can be access at watch.slingbox.com. After logging in to your Sling account, it'll immediately connect to your Slingbox and start streaming video from it. If you have more than one Slingbox on your Sling account, then you can easily switch between the two. The web interface is very easy to use, and works very well. Most of the options are self-explanatory, so I'll spare you the text for those things.
The Windows and Mac OS X versions of the web SlingPlayer are practically identical to each other, however the Windows version features 60FPS video playback as well as a 30-minute instant DVR.
Another interesting and neat feature is the remote control, which mimics the design of your actual cable/satellite box's remote control in regards to both design and functionality. Simply click on a button to perform its action remotely. It was a bit weird to see my cable box being remotely controlled, but its convenience when abroad is quite welcoming.
Yet another appreciated feature is its integrated TV guide service. It'll automatically pull up local television listings based off of area code and provider. If you see a show that you want to watch that's currently on, simply click on the show, click on Watch Now, and it'll change your cable/satellite box to the appropriate channel, just as if you were entering them on your physical remote control.
Mobile Apps
Unfortunately (in a way), the mobile apps aren't as well done as the web-based SlingPlayer; they're good, but they can be improved. They'll also cost you extra at $14.99 a pop through your device's respective application stores. Even worse, individual versions are required for different devices. For example, let's say that you've purchased the iPhone version of SlingPlayer. If you want to get the version for your iPad, you have to pay $14.99 for it, as it's considered as being a separate application. The same thing applies for Android devices, as you have a version specifically for tablets, and a version specifically for phones. While the phone version can be used for tablets, the experience simply isn't the same. Assuming you were able to purchase the $300~ Slingbox, spending a little bit more on these applications shouldn't be a big deal.
Anyway, the apps themselves. Many of the features from the web-based SlingPlayer are present, minus the 30-minute instant DVR and 60FPS video playback. A TV guide? Check. Remote control? Check. They work very similar to the SlingPlayer on the computer, too. Because of this, I won't explain these applications much further. For A/V quality information, read the section right below this one.
Audio/Video Quality
Being an owner of the previous Slingbox 500, the Slingbox PRO-HD, I was curious into seeing how big the difference in quality was. Aside from the much improved frame rate (for certain programming, of course), the quality boost was easily noticeable. Colors are more accurate and vivid and text and overall picture quality was clearer thanks to the resolution bump. Interestingly, audio quality decreased. Previous Slingboxes played audio back at roughly 128Kbps stereo yet, for whatever reason, the Slingbox 500 is at 96Kbps. The difference between the two is very noticeable, so the overall audio quality could be considered by most as being "poor" or "okay."
But, back to video quality. It's ultimately dependent upon the quality of both your input video source as well as your network.
In terms of the network, when you're watching via LAN, the max bitrate of the video at any given resolution is roughly 8Mbps, which isn't as bad as it may sound. When you're away from your local network, such as being on 3G or LTE, your quality there will be based off of the upload speed of your home Internet connection. The faster your upload, the better the video will be. Of course, your mobile device's download speeds are also important, but not as important as the upload speed, as the web-based SlingPlayer will be able to automatically adjust the bitrate to the available network bandwidth. My home Internet upload speed is [a measly] 2Mbps. When watching away from home on my computer, quality wasn't too bad at all. The resolution will be downscaled a bit, as 1920×1080 video at 2Mbps would be very ugly, which means that the video will be best suited for playback in the window, rather than at full screen.
In terms of your input source, such as a cable or satellite box, it really depends on how well your television provider handles its channels. I have Time Warner Cable, and their HD picture quality is typically poor, mainly due to the fact that most channels are transmitted at 720p, rather than 1080i/1080p. I was able to see live video coming from both a remote Slingbox 350 and a Slingbox 500, both on Dish Network, and the quality of many channels were much improved.
With that being said, the video quality will be generally good no matter where you are.
Specifically for the mobile apps, video quality is limited to either Standard Quality, High Quality, or the Auto settings. Each has its own set A/V bitrate and resolution. I believe that the max bitrate for even the highest setting is 1.5Mbps, so if you can achieve those download speeds, you'll be fine. If you're unsure, the Auto or SQ settings would be for you. Just keep in mind that, if you don't have an unlimited data plan, the amount of data used can climb very quickly.
Conclusion
In a world where people want to consume more and more while on-the-go, the Slingbox is the answer to viewing their live television (and other things, of course) content when mobile. It combines everything into an easy-to-configure, slick looking and well performing physical device. While its price is a bit high at $299.99, (a $120 difference when compared to the Slingbox 350), many may find that the inclusion of HDMI and photo & video playback worth it. To most, though, the Slingbox 350 offers most of the same features at a fraction of the cost. Whichever poison you choose, the result would've been worth all of it.
You can find the Slingbox 500 here (Amazon) and the Slingbox 350 here (Amazon).
Feel free to follow Brian and Gadget Unit on Twitter.
Video Review