Sold exclusively on Sprint in the United States, the $600 HTC Bolt smartphone provides an experience that may actually require consideration. With some tweaks and time, it could very well be just a dandy device to use.
Video Review
Availability and Price
Right off the bat, it's worth mentioning that at $600, the HTC Bolt is actually a bit overpriced for the hardware that you're getting. Sure, it comes with signature HTC build quality, but considering smartphones with faster, better hardware can be had for hundreds less, it does leave some head scratching.
As mentioned, the Bolt is exclusive to Sprint, meaning you won't be able to purchase it for use on other carriers. This clearly isn't an issue if you're already a Sprint subscriber, as you can simply visit a Sprint retail location or go online to purchase the device.
Specs
You can see below that the HTC Bolt mixes some older hardware in with some new. For example, it uses a mobile processor that's getting closer to the 3-year-old mark. Additionally, it uses a forward-thinking USB-C port, albeit at USB 2.0 speeds. Given the name and marketing of the device, both of those particular points seem like they've taken an unnecessary step backwards. Without further ado, here are the important specs.
5.5-inch 1440×2560 (534 PPI) Super LCD 3 display w/Gorilla Glass 5
Front-facing fingerprint sensor (touch-sensitive home button / pad)
Qualcomm Snapdragon 810 8-core CPU (up to 2GHz) + Adreno 430 GPU + 3GB RAM
3200 mAh non-removable battery w/Quick Charge 2.0
32GB internal storage + microSD cards up to 2TB
4G LTE (3x CA on Sprint's LTE "Plus" network) + 3G EVDO + 1X CDMA
802.11 a/b/g/n/ac (2.4GHz + 5GHz) + Bluetooth 4.1 + NFC
Android 7.0 "Nougat"
16MP rear-facing camera with OIS & 4K30 video recording
8MP front-facing camera with 1080p30 video recording
USB-C connectivity with USB 2.0 speeds
No 3.5mm headset / headphone port
6.06 inches tall, 3.04 inches wide, .32 inches thick
Design and Hardware
Ever since the 2013 release of the One M7, HTC has been acing build quality. The solid, metal unibody construction also features an IP57 rating, so it is somewhat resistant to water, splashes, and dust. Its smooth finish on all sides makes the Bolt pretty, but also very slippery. Combining the boxy metal slab with its overly-chamfered edges on the back, you now have something that's difficult and uncomfortable to hold–especially with one hand. Surely HTC could've pulled out a few tricks to make it more manageable to hold, such as decreasing the size of the bezels around the 5.5-inch display. I best see this phone being used with two hands: one that grips the device, and the other that actually interacts with it. I was actually surprised that the phone didn't slip out of my hand and onto the ground when using it in public, outdoor spaces.
There are fortunately a number of things to appreciate. Above, I mentioned how the device was pretty. That's because it really is. Attention to detail can be seen around things like the speaker cutouts, the volume rocker, the front earpiece, the ridged power button, the touch-sensitive home button, etc.
Around the Bolt is the usual set of phone features. Found on the right are the volume rocker and power button. Everything can be pressed with ease, and I didn't find myself pressing the wrong button by accident. The only things found on the right side are two slots / trays: one for the nano-SIM, and one for the microSD card. The top is fairly minimal as well, as there is only a strip of material that's used as part of the antenna system. There's a slight party at the bottom, though, as this is where you'll find the speaker cutouts, the USB-C port, and the bottom microphone.
Migrating to the front, you'll see the 8MP front-facing camera, earpiece, LED indicator, various sensors, and the front microphone pinhole. Of course, below all of that, is the 5.5-inch display. Then, below the screen are touch-sensitive keys for going back in apps and for toggling the app switcher. These are backlit keys that fade in and out when used. The actual touch areas are fairly small and are more towards the bottom of the phone, so you'll have to tap them with precision.
Between the two soft keys is the touch-sensitive home button. It's an absolute dream to use, as a physical button press is no longer required. It may sound minor, but it really makes using the device a little nicer, as even the lightest of taps will take you back to your home screen. Of course, it doubles as a fingerprint sensor, which itself works extremely well thanks to its fast processing and high accuracy. The sensor can also be used to wake the device from sleep. As an alternative, you can double-tap the screen to wake it, and while still at the lock screen, you can double-tap again to shut the screen back off. That feature in itself works fast and is reliable.
Migrating to the rear of the Bolt, you'll find a rear microphone pinhole, the dual-LED flash, 16MP rear-facing camera, some HTC branding, and some industry-standard antenna lines. Everything appears to be very clean, which is still much appreciated.
Speaker & Audio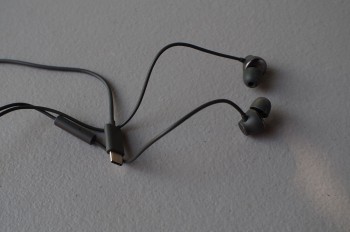 While HTC continues making quality smartphones, they've taken a clear step backwards in terms of audio–which is something that they once truly innovated upon. From 2013-2015, HTC included dual front-facing speakers. This revolutionized the audio experience on a smartphone. In 2016, starting with their flagship HTC 10 device, they reverted back to the still-popular bottom-firing speaker. This obviously is nowhere as ideal as having a speaker blast audio right towards you. They did however make the front earpiece a loudspeaker, though that experience proved to be a letdown, as audio quality and volume levels were totally different between the two speakers, making for an odd listening experience.
And back to the Bolt: The single, bottom-firing speaker isn't pleasant to listen to. It can certainly get loud without distortion, but that's its only pro, as the actual audio quality isn't very clear. You're certainly better off using headphones.
But that's assuming you're not expecting to use traditional headphones that use a 3.5mm audio plug. That's because the Bolt lacks that traditional 3.5mm audio port. Unlike the iPhone–with its proprietary "Lightning" connection–the Bolt uses USB-C, which is great considering it's the next great USB standard. Of course, if you're already using Bluetooth audio, none of this matters to you. However, if you plan on using wired headphones while charging the device, you'll need an adapter that provides two USB-C connections. Also unlike the iPhone, HTC opted not to include a USB-C-to-3.5mm adapter.
It does, however, include USB-C earbuds. Their audio quality is unfortunately similar to the bottom-facing speaker in that the highs just aren't as crisp as most would want them to be. Mids are okay, as are the lows. Mind you, this is even after configuring the HTC BoomSound Adaptive Audio feature, which analyses the sound around you to essentially adjust its equalizer. This feature does provide a modest boost to quality, but more so volume. The earbuds themselves are a tad on the larger end, but stay put fine (multiple tips of varying sizes are included). The cable could've been longer, too. Further, the in-line microphone and control button were a nice addition, though volume controls would've been even better.
But how are speakerphone calls? They're actually just fine. Thanks to the loud speaker, you can hear calls from quite a distance. Non-speakerphone calls using the front earpiece were fairly loud as well.
Display
When interacting with the screen, it puts out somewhat of a hollow sound, which is about the only thing about the Bolt that makes it feel cheap.
Beyond that, the screen actually performs beautifully. It's easily viewable outdoors, and touch sensitivity is great. As with many of today's great phones, viewing angles are where they should be, and colors are relatively accurate without appearing oversaturated.
Unfortunately, the Bolt uses Gorilla Glass 5. While it makes the glass stronger to try and prevent cracks and chips, smaller scratches are much easier to make. After a week of taking relatively good care of the device, I noticed dozens of small scratches throughout the glass. It's very much recommended to install a screen protector if you care about keeping your original investment protected.
Software, Apps and Features
The Bolt is one of the early phones that come shipped with Android 7.0, which is more commonly known as Nougat. With it comes many new features, including better power management (for great standby battery times), split screen multitasking, a night mode, and much more.
In recent years, HTC has really cut back in terms of how much their "Sense" overlay makes marks. The great part about this is that practically everything about the device is pure, stock Android 7.0. The only obvious HTC intrusions are with the launcher (not a bad thing), some minor color changes to the Settings app, and some HTC-made applications that come pre-installed (such as Weather and Voice Recorder).
On the topic of non-HTC pre-installed applications, the Bolt was absolutely terrible. In fact, of the many Android devices I've reviewed over the years, the HTC Bolt is easily the worst offender for bloatware. Out-of-the-box, most pre-installed applications could be disabled in the Settings app. One that couldn't be disabled is Sprint's "Sprint Hub" app. After round one of disabling apps, the Sprint Hub app decided that it was a good idea to download and install several more apps (such as AAA, Under Armour, Uber, and more), without consent, using whatever data connection was active (Wi-Fi or even cellular). "Okay, I'll just disable those," I thought. To my surprise, they were able to be completely uninstalled. And that was round two. Round three came when I installed an HTC software update relating to its audio system. Immediately upon installation, everything that I had disabled was re-enabled. It was so bad that I was just about to put the review unit back in its box for return.
With that out of the way, let's go back and discuss about what HTC has actually added to what is basically stock Nougat. For instance, the HTC launcher is still here, and is quite customizable. For example, you can download and install a theme that can change many elements, including sounds, colors, fonts, icons, wallpapers, and more. Some are very well designed and look great. The free theme that I've been using is called "Twilight Wilderness." You can also enable the Blinkfeed page, which provides relevant news with just a swipe.
Performance
Despite utilizing a slightly-dated processor and being called the "Bolt," performance is still a strength. Launching apps is fast, the entire OS is buttery smooth, and games play with ease. Unless you do side-by-side comparisons and benchmarks between the Snapdragon 810 and the more powerful & newer 821, it would be difficult to actually tell the difference. Having 3GB of RAM (as opposed to the now-standard 4GB) could be limiting to those who constantly switch between large applications, but shouldn't be a problem for most. As for temperatures, the phone will certainly warm up when doing intensive tasks, and when charging via quick charging. It never got unbearably hot, though, so I'd say it's about average for an all-metal-bodied phone.
What actually is ironic is the device's use of USB 2.0 transfer speeds. The physical USB-C standard can push out much faster speeds (as found in other phones at lower prices), so it was odd to see them hold back. With that being said, this should only be a concern for those who constantly transfer large files between devices.
Battery Life
The Bolt actually has a fairly sizeable battery at 3200 mAh. This was able to provide me with enough juice to get through an entire day. Usage consisted of LTE + Wi-Fi web browsing, social media and email checks, and basic app use, all at varying brightness settings. Even if the battery is low, thanks to Qualcomm's Quick Charge 2.0 technology, the battery can quickly be replenished. In one test, I gained 21% in around 15 minutes. From empty to full, the device estimated that it should take roughly 90 minutes to charge when using the included fast charger and USB-A-to-USB-C cable. Like any device, your mileage may very. If you really wanted to–depending on what you're doing–you can completely drain the phone within a few hours, but that's par for the course.
Call and Cellular Network Performance
Call quality has been fine, as mentioned in the audio quality section above. There were also no issues with text messages. However, there were plenty of issues to be had with data. It's very important to note that this is not the fault of the device, but rather the carrier.
With my testing in San Antonio, TX, Sprint is clearly not a good choice when it comes to using data. In most areas, LTE signal strength is weak due to Sprint's poor cell density. This also contributed to poor speeds; poor density means more people are connected to and using a given cell, typically resulting in congestion / slow speeds–even when utilizing three-way carrier aggregation, which Sprint is calling "LTE Plus."
As shown in the screenshot above, while there were some bright spots with the LTE network, it was generally frustratingly slow / inconsistent / totally unreliable. Don't let those sub-3Mbps download speeds fool you. While that sounds perfectly usable for general web tasks, the flow of data wasn't consistent and would often timeout. There were even some cases where Sprint's narrow 3G / CDMA network was faster. All of the above could be said for any cellular network, but it was far more of an issue with Sprint than any of the other three that I've used. My personal T-Mobile service was in almost every case dramatically faster.
Camera Quality
Simply put, the camera actually isn't bad. Its low-light performance isn't on par with the likes of Samsung and LG (which is still disappointing given the Bolt's price), but photos and videos in all situations are still plenty usable. Outdoor shots typically look colorful and crisp, as do 4K videos (which have bitrates between 40 and 50Mbps). There's unfortunately no 60FPS option for videos, though you can record 720p videos at 120FPS for great slow-mo action. For audio junkies, you can record lossless FLAC audio. The rear-facing camera also features optical image stabilization for clearer photos and smooth video–even when recording at 4K resolution. For photo buffs who know what they're doing, you can precisely control variables such as white balance and exposure.
The only real issue I had is that its tap-to-set-auto-exposure feature either made scenes far too dark or far too bright, as you should be able to see in the sample gallery above. I was better off looking at a completely different object, moving back to where I was, and snapping the photo. The issue you'll then have is with focusing, as tapping to focus on precisely what you want will still yield better results with the odd exposure side effect.
Value & Conclusion
I mentioned at the beginning of the review that there are Android phones that offer better (or similar) hardware at a much lower price. That puts the HTC Bolt in a tough spot. Once you disable the bloatware and get used to the uncomfortable design (if at all possible), the Bolt honestly isn't that bad. I enjoyed the new features that Nougat brought to the table, and found performance to be where I didn't really feel the need for it to be any better. Battery life also felt somewhat strong, and camera quality was good enough.
Even with its positive points, I still feel as though Sprint and HTC should decrease the price. Perhaps they're using Sprint's relatively limited device selection and locked-down network to their benefit? In any case, $600 is a bit much to ask for; it would be much more realistic to be $100-150 cheaper. But, if you do find yourself with $600 gone and this phone in your possession, you should be happy enough to last you a fair amount of time.
Feel free to follow Brian and Gadget Unit on Twitter.