Earlier this morning, Apple announced a number of new products, including the sacred watch, simply called the Apple Watch, as well as the heavily-and-accurately-leaked iPhones.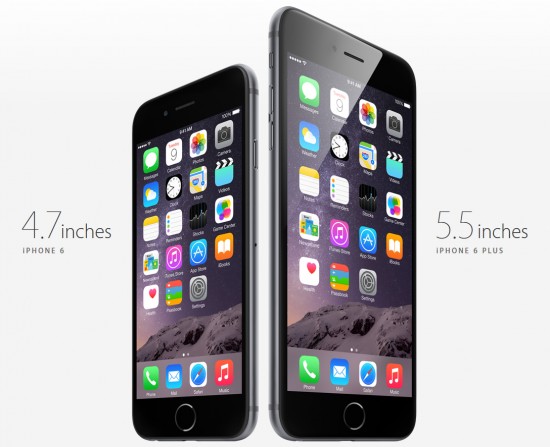 The Internet has known for quite a while that Apple was looking to create larger-screened iPhones. The screen sizes have officially been revealed, which are 4.7-inches (iPhone 6) and 5.5-inches (iPhone 6 Plus).
Apple seemed to look back at the original iPhone, from 2007, when working on the design, with the device's rounded sides and metal backing. The front glass is ever-so-slightly curved along the edges, too. Journalists who were fortunate enough to get their hands on them (and their review units) typically said that the phones feel comfortable to use, though one-handed operation may still be a challenge for some, especially with the larger iPhone 6 Plus. As the leaks suggested, the protruding camera lens is present, and so are the thicker-than-usual antenna lines along the back and sides.
Here are the tech specs that both iPhone sizes share:
Apple A8 CPU, presumably a dual-core clocked at 1.4GHz
1GB RAM (it may actually be 2GB for the iPhone 6 Plus, but we'll have to wait for it to ship as Apple doesn't provide RAM information on their tech specs page)
8MP rear-facing camera, 1.2MP front-facing camera
16GB/64GB/128GB storage capacities
802.11a/b/g/n/ac Wi-Fi, Bluetooth 4.0 LE
NFC communications for use with Apple's "Apple Pay" payment service
Apple can't release multiple devices without making one being better than the other. In this case, those differences would be:
The 4.7-inch iPhone 6's display is 750×1334 (326PPI)
The 5.5-inch iPhone 6 Plus's display is 1080×1920 (401PPI)
The iPhone 6 Plus's rear-facing camera has optical image stabilization, while the 4.7″ model doesn't
Thanks to the larger body of the iPhone 6 Plus, it has a noticeably larger battery, with what's expected to be in the 2,800mAh range while the iPhone 6 should be in the 1,800mAh range
iOS 8 also gets various usability enhancements when using the device in landscape (also, iOS 8 will see general availability for all supported devices on September 17)
Both devices will be available for pre-order this Friday, September 12, at 12AM pacific, and will ship one week later. Prices with a standard 2-year contract for the iPhone 6 will be $199/$299/$399 for each capacity, respectively, while the iPhone 6 Plus's pricing will be $299/$399/$499. Unsubsidized prices will be $649/$749/$849 and $749/$849/$949.
From what I've noticed so far, the 5.5-inch iPhone 6 Plus seems to be the one that most people are looking towards purchasing, mainly due to the much-improved battery life numbers that Apple gave, so supply may be limited at launch. I'm personally hoping to pre-order the space gray iPhone 6 Plus (16GB) for T-Mobile, which will be unlocked.
For the best information, Apple's iPhone 6 product pages are the places to go and can be found here.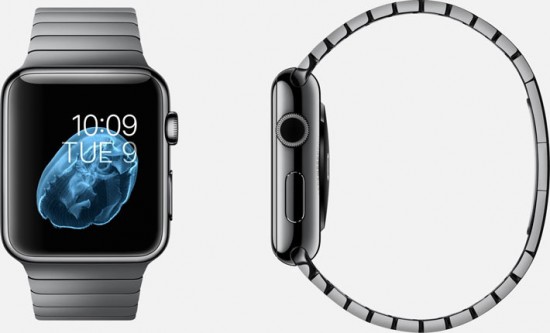 "There's an Apple Watch for everyone," says Apple. The $349 companion to the iPhone 5c/5s/6/6+ will be available early 2015. Looking for tech specs? You'll have to wait, since Apple, surprisingly, didn't make that information available. Not even battery life numbers were mentioned, though they did hint at it being your "all-day fitness device." This ultimately leads many to believe that the Apple Watch simply isn't finalized just yet.
Nevertheless, there's still plenty to know. For one, you'll have three metal finishes to choose from, which includes the typical silver, black and 16k gold. Each will have interchangeable bands, all of which have different materials, designs and features.
Next is the software, controlled primarily by the digital crown in addition to the pressure-sensitive display (that's also slightly curved). The Apple Watch can do a lot of things you'd expect a smartwatch to be able to perform, such as providing navigation/directions, control audio playback, view notifications and, of course, tell the time. It'll have third-party app support soon, too.
One big thing that Apple took the time to detail was the health portion of the Apple Watch. It allows you to track how long you've been moving, exercising and standing, among others. Because everything is paired to your connected iPhone, you can track and monitor things there, too.
There's a lot more to the Apple Watch than what's described above. Thankfully, Apple posted everything that you may want to know, minus the tech specs, on their Apple Watch page here.
Feel free to follow Brian and Gadget Unit on Twitter.