Promoted as the "2014 flagship killed" comes the OnePlus One out of China. It gets that title thanks to the smartphone's impressive spec sheet, but even more so for its price.
Before I begin, I need to thank Daniel Elias from Live Tech Australia for allowing me to take a look at his OnePlus One for a while.
Unboxing Video
Video Review
>
Availability and Price
Speaking of the price, it starts at just $299 for the 16GB model while the 64GB model is just $50 more at $349, essentially giving you 4x the internal storage space. That would be the better way to go if you don't know if 16GB is enough. That's also because the OPO doesn't have a microSD card slot.
Availability is different than most smartphones in the sense that you can't just go online or to a store and buy one. To cope with supply and demand, OnePlus opted to go with an invite system. You can learn more about this here.
Specs
A "flagship killer" can't go without mentioning its specs, so here they are:
5.5-inch 1080×1920 LTPS IPS display w/Gorilla Glass 3
Qualcomm Snapdragon 801 quad-core CPU @ 2.5GHz
3,100mAh semi-removable battery
16GB/64GB capacities (no microSD expansion), 3GB RAM
4G LTE/3G/2G support
802.11ac/b/g/n Wi-Fi, Bluetooth 4.0, NFC
Android 4.4.2 "KitKat" (CyanogenMod 11S)
13MP rear-facing camera (4K video capture)
5MP front-facing camera
152.9mm (6 inches) tall, 75.9mm (3 inches) wide, 8.9mm (0.35 inches) thin
In terms of specs, clearly, the device can compete with the more expensive flagships from the likes of Samsung, LG and HTC (though those usually have hardware and software-based features that the OPO simply doesn't have).
Design and Hardware
The design is stunningly simple. You have a large slab of glass on the front, a power button on the right, a volume rocker and micro-SIM tray on the left, a 3.5mm headset jack on the top, and a micro-USB 2 port (no USB 3, unfortunately) and dual speakers on the bottom. No fancy fingerprint readers or IR blasters here. Along the back is the 13MP rear-facing camera with its LED flash right below. Some OPO and CyanogenMod branding can be found around here as well.
Unique to the sandstone black model of the OnePlus One is its back texture. It's somewhat hard to explain, but I'd mention it as feeling like semi-rough (yet smooth) sandpaper, if that makes any sense. You really have to feel it to understand it. Of course, should I keep this as my personal device, a case will certainly go over it. The grip level is fairly good, but given the large size of the phone (not very easy to use with one hand in most situations), a case would give a bit of security should it all fall onto the ground.
There's something to note regarding the micro-SIM tray, which is that it can be inserted into the phone flipped around from the way it should be inserted. This would explain why my SIM was never registered at first. I then noticed that the tray wasn't perfectly flush with the side of the phone like it was originally, so I flipped it around, restarted the phone, and off I was.
Speaker
Audio quality from the dual bottom-facing speakers certainly isn't one of this phone's bright spots. While it can get quite loud for casual music listening and speakerphone calls, overall quality (clarity, for one) can be lacking. For long periods of listening, speakers or headphones are recommended.
Display
While its pixel density is high, so is the overall quality of the 5.5-inch display on the OnePlus One. It can get very bright but also very dim, depending on how you'd like to use it. Viewing angles are just fine while the display can be used outdoors without too many problems. All of this is certainly comparable to today's expensive flagship smartphones.
Software, Apps and Features
The OPO runs a mostly-stock version of Android 4.4.2. If you're into ROMs, the name CyanogenMod might be familiar, as this is what the phone comes with. You can install your own ROMs if you'd like, however. You can learn more about CyanodenMod here.
Because of this, you don't have to worry about the device coming with any bloatware. Any stock app that you might not want can be hidden from the launcher or disabled altogether. After I cleaned everything up, I was left with only a handful of apps, which I found made things nice and clean. Speaking of clean, that also carried over to the lock and home screens with my particular setup.
There are a number of software annoyances that I wish were looked at before release:
The gallery app has animations that are ultimately unneeded
After taking a photo with the Camera app, you have less than one second to tap on the photo thumbnail near the shutter to review it. Otherwise, you'd have to back out and go into the Gallery app.
If using a passcode on the lockscreen, the nice weather widget at the bottom of the screen is gone for good
The phone has to be restarted when swapping SIM cards…
Performance
You can imagine a device with these specs to be fast, and boy is it. Apps launched quickly and games performed well. There really isn't much else to say in this regard.
Though you do get some choices of performance modes: battery saver, balanced, performance. You can most likely rely on the first option for general use, but I would highly recommend switching to performance when playing graphics-intensive 3D games, such as Carmageddon. With this game, I noticed huge frame rate difference between all three performance modes. As noted in the battery life section below, it's heavily decreased.
Battery Life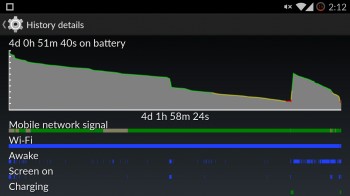 Simply put, battery life is very respectable. The majority of my use was using the "balanced" performance mode. Standby time is very impressive. You should be able to get at least 24 hours of general usage with the OPO.
However, as you can see in the graph about (about in the middle and at the very end), running the phone in performance mode for large 3D games will cause your battery to drain very quickly, perhaps less than 2 hours total gameplay time. While you could probably get away with playing games using the balanced mode or even the battery saver mode, you'll just end up with a more sluggish experience.
Cellular and Wi-Fi Network Performance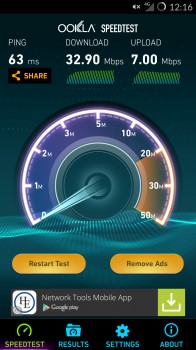 Of course, these types of things greatly vary by location and several other variables. I tested the OPO with a T-Mobile USA micro-SIM and network capability and performance were all good. Speedtests were about what I was expecting (basically, speedy!). Calls sounded fine, but HD Voice calls currently aren't supported on the OPO, and neither is Wi-Fi Calling.
One hardware-based issue I've noticed is that 5GHz Wi-Fi reception is somewhat poor in the sense that it opts to disconnect altogether at lower signal strengths. Compare this to my iPhone 5s and Wi-Fi enabled laptops that will remain connected and usable in the same spots, it's not a very good thing. I imagine that a software update could fix this and help enhance some of the other things that users might find annoying or frustrating. When connected, Wi-Fi performance seems just fine.
Camera Quality
While photo quality could certainly be a bit better, maybe via a software update, the photos that I took really weren't bad at all. Though, I would say that most are just a little undersaturated or warm. Low-light photos were surprisingly fine. All of my photos were taken with the phone's auto mode. If you want some manual control, that's available to you from within the stock Camera app.
You'll find the full, untouched 13MP JPEGs here: 01, 02, 03, 04, 05, 06, 07, 08, 09, 10, 11, 12, 13, 14
Video and audio quality are both quite good. While the camera supports 60FPS and 120FPS video recordings at 1080p and 720p resolutions, respectively, videos are actually saved at 30FPS. If you wish to play these clips at normal speed, you'll need to manually play them back in an app or on your computer at twice the speed (for 1080p60 videos) or quadruple the speed (for 720p120 videos). Even worse, audio isn't recorded during these modes. I usually record videos at 1080p60FPS, but little did I know that it would actually record at 30FPS with no audio. Keep this in mind when recording videos. Maybe a software update will enable audio recording and native 60FPS & 120FPS recordings soon
And by the way: you can record 4K videos at 24FPS or 30FPS. I'd expand upon this more, but 4K recording is really only good if you have a 4K display or plan on doing some 1080p video editing with zoomed-in sections of 4K video.
Conclusion
If you have between $299 and $349 to spend on an unsubsidized smartphone, the OnePlus One is easily your best option. It has unheard of specs for the price and a very clean software experience. It's still in an "early adopter" stage, meaning some software updates should help make things even better. But, if you can manage to get an invite to purchase one, you'll probably have a blast with it.
Feel free to follow Brian and Gadget Unit on Twitter.