This guest post was contributed by Oliver Powell.
A hard drive is a popular yet conventional method to store user-generated content. It may carry one or more partitions to categorize your file types, such as documents, movies, photos, audio, videos, etc. This can even be done while maintaining one master partition, known as a boot partition, which generally stores crucial system files and records required for healthy and trouble-free operation of your computer.
Hard drive partitions have pre-defined file systems on it and, if corrupted or somehow damaged, you might not be able to access it whatsoever. You may lose access to that partition as well as all of its data. There are no manual methods of repair. Here are some common problems that users may face regarding partitions:
Accidentally formatted important partitions without backing the data up
Intentionally change the partition file system for some special needs which may then require formatting
System has lost the file system directory structure and asks you to format it before using it
Dedicated software have been created to address such needs even while ensuring the maximum security for your hard drive data. Hetman Partition Recovery (hetmanrecovery.com) is a powerful tool that falls under such niche and is considered to be the most efficient and reliable tool to recover lost, deleted or formatted files from a hard drive. It doesn't matter if you've lost files from a Windows reinstallation, formatting partitions, virus/trojan attack, etc.
Features of this program:
Partitions with a lost directory structure or missing file table, can be recovered with all its data intact.
Recover lost, deleted, corrupted, formatted or damaged files from a hard drive. Software supports storage devices including internal or external drives. Moreover, it supports various type of file system including FAT12/FAT16/FAT32, NTFS & NTFS5.
Flawlessly retrieve files from the latest version of Windows OS.
Offers wizard-based recovery steps for PC beginners as well as advanced users. Start the program, select the drive, then the scanning and recovery of your important files can begin.
The application offers a Windows Explorer-like interface to carefully look for the existing hard drive partitions and their status (weather RAW or healthy). It also lets you see the deleted files (highlighted by red dragger) and folders along with the existing data, from where you can easily copy/move important files to your targeted location.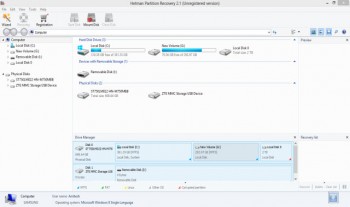 Image creation options are also integrated into this program to make your recovery challenges as easy as possible. Consider creating an image for inaccessible or failing hard drive (or for any separate partitions) and keep it safe to perform recovery when the drive fails completely or becomes inaccessible.
One program for all your recovery needs
The software provides all the latest functionality and capability to deal with even most tragic data loss circumstances. Through the software, you may be able to restore corrupt or damaged partitions and their data exactly in the state it was before deletion. Below is the software video tutorial that you may want to take a look at:
Lastly, the software comes with a try-before-buy feature so that you can test it and then purchase, if you are satisfied with the results.