This guest post was contributed by Asif Shaik.
Smartphones and tablets have become the centre of our digital needs and lives. They have been wildly successful in replacing dedicated devices such as media players, PCs and digital cameras. With each passing generation, smartphones and tablets are getting better than even the dedicated devices in terms of performance and value. The more they get an important place in our lives, the more they need to be protected and be updated. Software is the most important aspect about them. Software updates keep the devices secure, fast and future ready. It also improves overall performance and user satisfaction. Right now, there are only 3 smartphone platforms which are worth talking about; Android, Windows Phone and iOS. With older software, you won't be able to run newest apps and games. Let's see how each of them stand in terms of software updates.
Updates For Older Android Devices Needs To Improve A Lot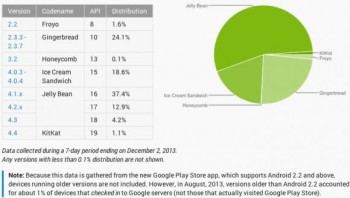 Other than flagship smartphones, no other Android devices get constant software updates other than security updates and bug fixes. Even flagship devices get the updates months after Google releases them to public. HTC has actually released an infographic which shows exactly how much of time each stage of Android update takes. The reasons for devices not getting updates is either an SoC manufacturer or the device manufacturer deeming their component/device unfit/incompatible with the software updates. Most of the time in brewing the Android software update goes into testing and certification by carriers or other testing agency.
Let alone mid-range or lower-end devices, even the flagship devices hardly get support for more than 1 major update. HTC has recently come into trouble for not providing the Android 4.4 KitKat update to its 2 year old HTC One X. HTC blamed it on Nvidia for not providing Android v4.4 support to its Tegra 3 chipset. This is the reason why Nexus and Google Play Edition devices are getting so popular these days. Such devices take only 8 steps instead of 12 steps to reach a user's device.
Microsoft Once Shunned Their Users And Learnt Their Mistake
Windows Phone acquires nearly 4% of smartphone market share right now. Earlier, Microsoft shunned the Nokia Lumia 900 (and other WP7.x devices) buyers by declaring that it won't be updated to Windows Phone 8.0. This was just 4 months after its official release. Similar was the case with every Windows Phone 7.5 which weren't updated to latest software due to a lot of under-the-hood changes. A new generation Windows NT Kernel formed the base of WP8 while the Windows Phone 7.x was running on the decade old Windows CE kernel.
After the Windows Phone 7.x to Windows Phone 8 update debacle, Microsoft has been very stable in terms of software updates to its smartphone platform. Also, all the devices which were released with Windows Phone 8 will be updated to the upcoming Windows Phone 8.1 'Blue' and at least 1 major update after that.
Apple's So Called 'Constant Software Updates' Are Not So Complete After All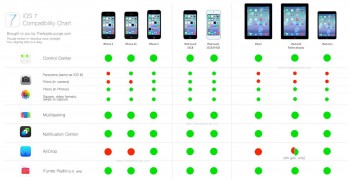 The situation of software updates is much better in Apple's offerings but still not perfect. Apple might be to busy in tapping their own backs for releasing the iOS 7 to an almost 4 year old iPhone 4. But many of the features such as Siri, FlyOver, AirDrop and AirPlay Mirroring aren't compatible with iPhone 4. It even misses out on a lot of animations, parallax effect and translucency effects which relatively newer iPhones can flaunt with the iOS 7. Almost everything happens a second or two slower with iOS 7 except web browsing performance. Even the iPhone 4S with a dual-core processor can't get its hands on AirDrop and photo filters in the camera application. Anything 2 generations old will suffer the features compatibility list in iOS ecosystem. Luckily, Apple could price the iPhone 5C higher than similarly specced iPhone 5 due to its complete compatibility with the iOS 7, without missing even a single feature other than the hardware dependant fingerprint sensor based security.
What's The Next Step Going Forward?
Right now, Google has an understanding with all their major partners; HTC, Samsung, Sony, Motorola, LG to provide software updates to their Android devices for up to 18 months from release, provided that the "hardware supports it". And this is the clause is where manufacturers flunk as they reason an unacceptable performance with the update.
According to some leaked reports, Google is opting to restrict devices which run the latest version of operating system for further GMS certification. For those who are clueless to what GMS (Google Mobile Services) certification is, Android is open source but if a manufacturer wants their Android devices to be compatible with Google Play Store, they need to pay around $0.75 to Google. Google Play Store is the content store managed by Google where users can find and install all the Android applications, games and other multimedia content. Certification to GMS also comes with all the necessary Google services such as Google Search, Google Maps, Gmail, Google+, YouTube, etc.
This way, the scene of manufacturers releasing Android smartphones with operating system versions older than the newest available will stop. Google can't completely follow Windows Phone way of forcing every manufacturer to update devices but a lot can still improve with slight strictness and inter-market competition. Even though Motorola Moto G is a mid-range smartphone, it comes with latest software. And, buyers are valuing this aspect a lot, which reflects in the huge sales even in a country like India with many non-techy consumers. Other manufacturers like Samsung and LG are getting squeezed by this fact and they need to be in line with consumer expectations from now on. Also, Google has been slowly working hard on decoupling important aspects such as browser, keyboard, Gallery, etc from the core Android code base so that they can be kept updated without the need of complete operating system update.
HTC has set up a dedicated page which shows the software update plan and phase for their devices being sold in the market. Even brands like Sony, Samsung and LG are publicly listing their software upgrade plans early so that users could know what's happening behind the scenes.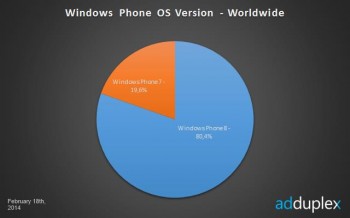 Microsoft has done a great job in moving to a new Windows NT kernel and setting up minimum hardware requirements so they can clearly know what hardware they're dealing with and if it would be compatible for acceptable performance after the software update. Qualcomm, the lone SoC provider for Windows Phone devices has a great history of providing codebase for even their old chipsets. But Microsoft still needs to improve upon the time when the software update is received by each device after the actual announcement. As per the history, it takes anywhere from 3 months to 6 months for the announced Windows Phone software update to actually reach the low-end devices.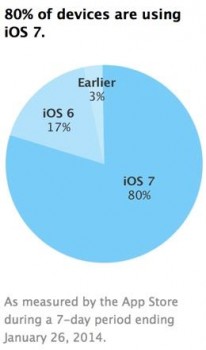 Apple is sitting pretty in this scenario but they can still improve in stopping performance degrades and buggy software updates for further releases. They also need to clearly mention features compatibility list for each of the device getting software update. We can only hope that someday, even our smartphone software updates are as seamless and as early as PC platform is.