This guest post was contributed by Asif Shaik.
Sony has released the Xperia Z1 Compact which everyone is terming as the best compact smartphone out there. While brands like HTC, Samsung and Asus have compromised with hardware in their 'mini' versions of their flagship devices, Sony has just reduced the screen size. Everything else stays the same, be it processor, memory, storage, camera, software or connectivity options. We think that it is the perfect phone to compete with Apple iPhone 5s, if large screen sizes annoy you and you don't have any other options worth buying. Let us have a look at some reasons why we feel so.
Design & Build Quality
Both the phones are built with very high quality materials. The iPhone 5s has an aluminium body with Gorilla Glass panel on the front and rounded corners. It comes in 3 colour options; silver, white and gold. It has one of the greatest and most elegant yet rich smartphone designs of all time. The Xperia Z1 Compact on the other hand is advertised as tough because it can take quite a few bumps and knocks without getting its glass panels cracked. It has a metal frame on the sides while the front and back feature shatter resistant tempered glass panels. It is also IP57/58 certified which means that it is water-proof and dust-resistant up to a certain extent. People would notice the iPhone in your hand, such is its charisma. But the Xperia Z1 is suited to everyone because of its sleek yet rugged nature. It also comes in 4 different colours; black, white, yellow and pink. But then again, everyone has their own views and taste about design and each phone is good in their own way.
Display & Processing Performance
The iPhone 5s comes with a 4 inch IPS LCD display with a resolution of 1136 x 768 pixels, taking its pixel density to 326 ppi. The Xperia Z1 Compact on the other hand features a 4.3 inch IPS LCD screen with a resolution of 1280 x 720 and a pixel density of 342 ppi. Both the screens have similar performance with deep blacks, wide viewing angles and bright whites. Both of them can record up to 10 fingers at once and tracking is excellent.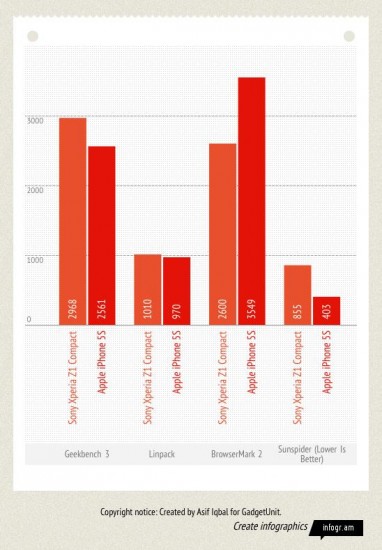 When it comes to processing performance and speed, there is no clear winner. The Xperia Z1 Compact is equipped with a 2.1GHz quad-core Qualcomm Snapdragon 800 SoC with 2GB of LP-DDR3 RAM. This processor is clocked at 2.1GHz and has 4 CPU cores along with an ultra-powerful Adreno 330 GPU. In comparison, the iPhone 5s is equipped with a 1.3GHz dual-core Apple A7 64-bit processor along with PowerVR G6430 GPU and 1GB of LP-DDR3 RAM. Both perform impeccably and almost equally in almost all the tests.
Camera Quality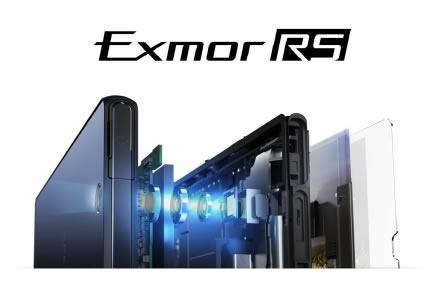 The Xperia Z1 Compact features a 20.7MP Exmor RS camera sensor with a physical size of 1/2.3 inch, autofocus wide-angle lens and LED flash. It has a 2MP front facing camera and both the cameras can record full HD videos. The iPhone 5s features a 1.3 inch sensor packing in 8MP resolution, autofocus wide-angle lens and dual-tone LED flash. It has a 1.3 MP front-facing camera which can do FaceTime calls in 720p resolution. Generally, the Xperia Z1 Compact offers slightly better details in its images and a lot of other feature modes such as TimeShift Burst, Background Defocus, etc. The video recording quality in both of them are equally great with consistent frame rates, smooth motions and good amount of detail.
Operating System & UI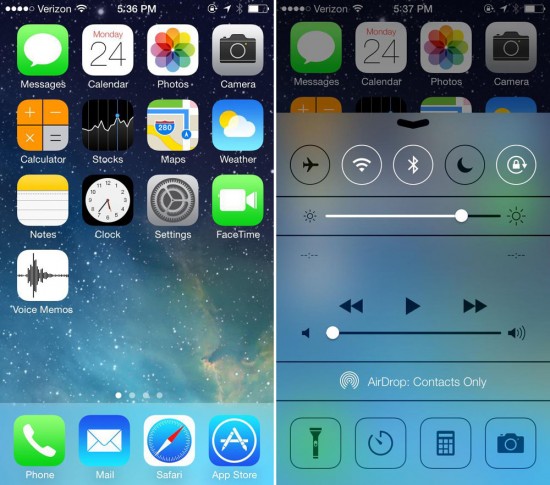 We can't really compare both the operating systems in a short ways as both of them are built with different approaches. Where iOS easy really easy to use and has better designed apps and games, they are closed in nature and can't talk to each other very easily or in an open manner. Even the customisability options which are provided to the user are very limited. On the other hand, Android is kind of open sourced in nature. Even though its apps aren't nearly as nicely designed as their iOS counterparts, they are more powerful and capable of pulling off some great tasks. Android isn't as easy as iOS but it offers a lot of customisability options to the users. Sony's custom UI designed for Android is one of the nicest looking of the bunch and has some really great options such as STAMINA mode for power saving, themes, in-built DLNA server, camera add-ons, etc.
Connectivity & Battery Life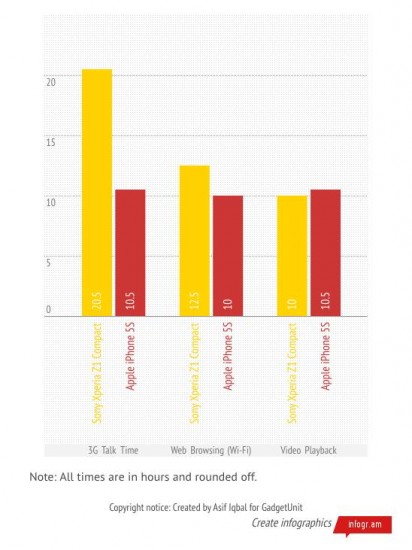 Both the devices feature 4G LTE, HSPA+, Bluetooth v4.0 + LE, A-GPS and the commonality ends there. The Xperia Z1 Compact features a much faster gigabit Wi-Fi ac/b/g/n connection as well as other connectivity options like Wi-Fi Direct, DLNA, Miracast, Micro USB v2.0 and NFC. Although Apple has their own standards to do some of this stuff, like AirDrop for file transfers, AirPlay Mirroring for screen mirroring and Lightning Port for charging and file transfers, they aren't open in nature which is a let down in some scenarios.
Sony Xperia Z1 Compact beats the iPhone in battery life. It lasts longer in all the departments by a couple of hours, be it continuous calls, video playback and web browsing.
Pricing & Value
The Apple iPhone 5s price starts from around INR 48,000 in India while the Sony Xperia Z1 Compact is set to be priced around INR 30,000 when it launches this week worldwide. The Xperia Z1 Compact definitely provides much better value for your hard earned money in spite of being neck to neck with the iPhone 5s in terms of performance and style, if not better. Also, think of not being worried of getting your wet in rains or pool parties or being feared of getting the screen smashed.