With phones getting bigger screens, why not tablets? That's what Samsung has done with the Galaxy Tab Pro 12.2.
Video
Tablets are quickly replacing computers for a lot of people, and Samsung's 12.2-inch tablet offering seems to be the best representation of that thus far.
The Galaxy Tab Pro 12.2 packs a gorgeous, high-resolution (2560×1600) display that's as responsive as ever. Other specs include a massive 9,500mAh battery, Android 4.4 KitKat, 3GB of RAM, 32GB and 64GB storage options, a microSD card slot (up to 64GB), an 8MP rear-facing camera and a 2MP front-facing camera. Connectivity includes 802.11a/b/g/n/ac Wi-Fi, Bluetooth 4.0 as well as USB 3.
Some of Samsung's software modifications include a full-screen "Magazine UX," which is used as a homescreen on its own. If you prefer your standard icon and page layout, that is still available to you. While the unit I was using was probably an early model, Android felt noticeably sluggish and fairly slow at times, even if everything is closed from the multitasking screen.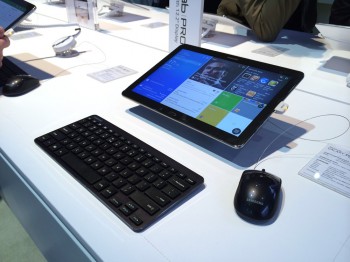 While large, it had a fairly respectable weight to it, but a tablet like this will most likely be used on a surface of some sort. Other indications of this included there being Bluetooth mice and keyboards around the 12.2 demo units. In terms of design, it represents existing Samsung products, with styling cues taken from the Galaxy Note 3.
Pricing hasn't been announced, but one can expect it to cost towards the higher end of the tablet spectrum. Availability is said to be within the next three months.
Feel free to follow Brian and Gadget Unit on Twitter.