This guest post was contributed by Jenny Wadlow.
Technology is constantly changing as we all know, but recently this has been happening at a completely unprecedented pace. Just to put things in perspective, it's only been about 6-7 years since the launch of the first iPhone. Before that people didn't surf the web on their phones really, and we certainly didn't have tablets like the iPad. As such, social apps like Instagram didn't exist either, and concepts like Google Glass would have seemed like they belonged on Star-Trek.
And yet here we are, using technology in completely new ways and taking it all for granted. It has changed the way we live our lives, and yet most of us have hardly even noticed. Weird.
For the most part this is because the new technology has been designed to fit into our lifestyles seamlessly. The brilliance of technology like the iPad, is that it allows us to surf the web without crouching over a computer – now we can do it while kicking back on the sofa and watching the TV at the same time. Likewise we can check Twitter while we're using the little boy or girls room, and we can watch YouTube while peeling potatoes. Technology has become versatile, seamless and enjoyable.
And as a result it's time that our homes and our decors adapted to match this change…
Requirements for Your Living Room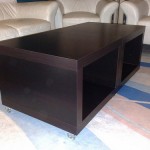 No longer is there any great need to have a large computer desk in the living room. Now your communal web-viewing device can be your iPad or another tablet that will be easy for anyone to just pick up and play with.
But in order to enjoy using a tablet on a sofa or in an arm chair, you're going to need the right set up so that it's comfortable and conducive to reading on a digital device. That's why it's important to firstly ensure that you have a coffee table to place your device on. This will allow you to keep it right next to where you're sitting so that you don't have to get up and retrieve it: it makes a big difference to be able to grab it and go.
At the same time though you also need to think about lighting and particularly with regards to windows – you need to ensure that there isn't going to be too much glare on the screen, so arrange your furniture to avoid this.
Typing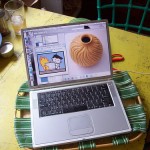 Of course technology is not just for media consumption though, it's also for media creation. If you want to get creative and productive on your tablet though, you're going to need more than an arm chair to use it with – you'll need something to lean on and some way to prop up your device.
To this end there are a few purchases that can make life easier. One is simply to buy a small table that you can pull over yourself where you're sitting at the sofa. These need to be open on one side so that they can fit over the seat you're in.
Another option is to buy a lap tray which will enable you to lean on your lap without getting up. Alternatively you can make changes to your computer/tablet device itself. For instance, by adding a kickstand and the right case to your tablet, you can work comfortably on your lap as though it were a laptop.
Take the original Surface Pro for instance: a great and versatile device, but one that lacks the ability to be used easily on the lap. Well the best solution to this problem would be to buy a folding case that fitted they keyboard too. There are several of these, all of which allow multiple viewing angles and more support on uneven surfaces.
In short then, if you think carefully about your devices and the spaces you will be using them in, then there are many ways you can make them more versatile and convenient to use around the home.
Author Info
Jenny Wadlow, the author of this article, is a freelance blogger, currently writing for, Mr. Convenience, leaders in home furnishings in Toronto. She takes keen interest in renovations and is great with design.