This guest post was contributed by Jenny Wadlow.
Do you remember when you first started using a mobile phone? I bet you played a lot of useless games when you should have being doing something a lot more productive. These days you probably go around taking photos and uploading them to Facebook or Twitter. Your smartphone is pretty special, so instead of wasting it you should think about using it for something that is going to change your life. I know you're not great with money because we're all the same.
Lots of us are in debt up to our eyeballs and it's going to be tricky to get out. Some people can hardly afford to pay their monthly bills and others are too scared to open them. You're in luck because there are plenty of amazing Android apps that will take care of all your needs. We're going to look at the best ones and if you think they could help improve your life and your finances you should definitely check them out before you go any deeper into debt.
EasyMoney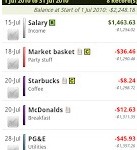 The worst thing about this app is definitely the name because if someone was trying to scam you theywould mention easy money. Luckily once you open it up you'll be pleasantly surprised. It will allow you to track everything, so it means you won't have to sit at the table with hundreds of receipts when you're sorting things out. It will even take your monthly expenses and run reports on them before helping you come up with a budget. There is a free version of this app, so you should definitely try it out.
Mint.com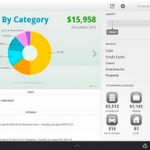 Mint is a huge company, so it's no surprise that their app is great. It's a one-stop-shop where you can manage all of your accounts. Plug them into the app along with your loans and investments where you will be able to keep track of them at the same time. You can even add your transactions manually if you pay with cash, so you won't be able to lose track of anything. The only downside is the fact you'll be pushed onto the website for certain things, but I'm sure you can live with that.
PageOnce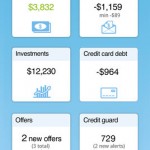 If you're looking for an app that has everything you're going to be disappointed, but if you're looking for one that does what it's supposed to do you'll be very happy. Once you've set everything up you'll be able to pay any bills through your phone which could completely change your life. Another positive thing is the attractiveness of this app because anything to do with finance is usually very boring. There are still a few more extra features which include tracking your income and expenses.
Financisto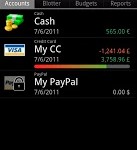 You can use this app to help you manage your finances, but it's also very good for helping you look after multiple loans. All you need to add are the exact details of each loan including the interest rates, installment dates, etc. It's also a great one to take abroad with you because currency conversions can be a pain. You will be able to track your transactions abroad without any difficulty. Don't forget to download it before your next trip.
Nickel Tracker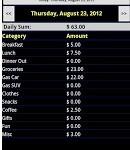 When you're in charge of the monthly household expenses it's a big task. You can't mess anything up because it could affect the whole family, so this app will help you keep on top of everything. You can tell it how much you have to spend every month and it will keep track of your expenses. When you're getting close to your monthly limit you will be warned so you can stop spending money before it's too late.
It's time to get your act together
We all start to go a little dizzy when we think about our finances, but at least these apps will make everything easier on you. If you're the type of person who sits at the kitchen table trying to figure out what goes where, you should definitely try out the apps to see if they help make your life easier.
Author Bio:
Jenny Wadlow is a freelance blogger by profession. For a series of articles that she wrote recently on property and finance management, she researched about current mortgage rates in Toronto. Travelling to new places and exploring the world are her passions.