Finding the right pair of headphones can be tough and fairly time consumer. However, there are some audio options that are pretty safe to get that combine comfort, materials, as well as audio quality. The AE2 by Bose is a good example of a safe pair of well-rounded headphones.
Contents
In this review, I'll be covering the following:
Pricing
Packaging/Extras
Build Quality/Construction
Comfort
Portability
Features
Audio Quality
Value
1. Pricing
To better suit the listener, the AE2 headphones are available in a few different options (all prices come courtesy of Amazon):
For most people, the normal AE2 model without the in-line microphone would be a perfectly fine option, but spending the extra $30 for that feature might be worthwhile. If you find yourself using your headphones with a smartphone, for example, and you get a call, it's quite nice knowing that you don't need to take your headphones off to actually take care of the call.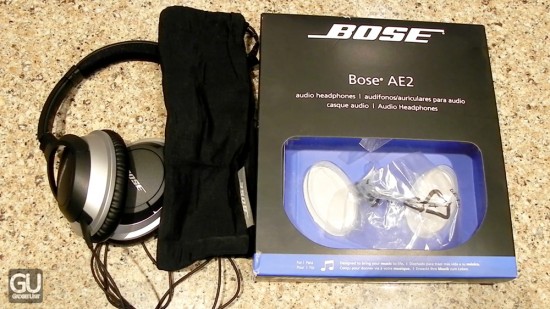 2. Packaging/Extras
While many will put more energy into the packaging and presentation of products rather than the products themselves, Bose does quite the opposite. The packaging is as basic as it gets, and it's not the most straightforward thing to get into. More importantly, make sure you have a pair of scissors handy.
Included are the headphones themselves, some documentation, as well as an extremely basic drawstring carrying bag. Bose tends to market themselves towards business travelers, so the lack of a hard carrying case is a bit disappointing. The bag itself will do a fine job at giving your headphones some basic protection, but just be sure to be a bit cautious when storing them.
3. Materials
The majority of the unit is made of plastic, with a bit of metal being used for the headband, as expected. Along the two earcups, extremely soft and comfortable leather can be found.
4. Build Quality/Construction
With tha being said, that doesn't mean that the headphones don't feel strong or sturdy, because they absolutely do. Occasionally, they will feel a bit plasticky, but you shouldn't be riding a dirt bike with these headphones on anyway.
As long as you're careful with where you place the headphones, you shouldn't have any problems with them lasting a very long time.
5. Comfort
This is where the AE2s really shine. One can easily wear these for hours at a time with absolutely no discomfort to their ears or head. That's mainly due to the "around-ear" design, where your entire ear can fit comfortably inside of the headphone, as opposed to the headphones actually sitting on your ear. The headband isn't too restricting, so there isn't a noticeable amount of pressure on your head. The height of the headband is also easily adjustable.
This particular headphone design also helps with filtering out background noise. They aren't active noise-cancellation headphones, however they do provide you with an audio experience that allows you to listen to music in fairly loud areas with no notice of what's happening around you.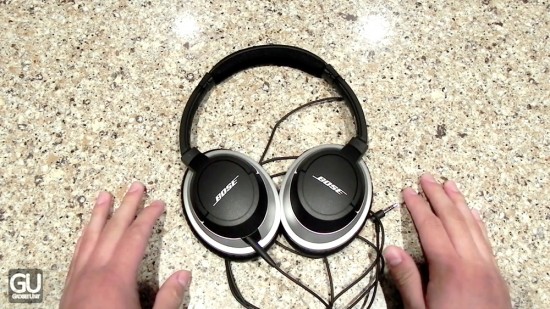 6. Portability
Unlike with comfort, portability could be a bit of an issue. Many headphones are able to be folded up into the headband to make transporting them less of an issue. With the AE2, all you're able to do is fold the earcups flat. This might've been due to the rather large size of the ear cups themselves, however I'm sure that Bose could've done a better job in this area.
7. Features
While the AE2 model doesn't have an in-line microphone or remote control, the AE2i does. As mentioned above, this could be a worthwhile feature to some.
One great feature is that the audio cable is removable. It plugs into the left earcup, which also makes differentiating the left and right headphone easy. The cable itself is a bit thin, so you'll want to take extra care of it. Fortunately, though, replacements are available for just $6.99 via Amazon. The opposite end of the cable has an angled gold-plated 3.5mm plug. The base of the plug isn't as large as many would expect, which makes it far more compatible with various smartphone cases.
8. Audio Quality
Audio quality is quite fantastic to say the least. Overall, it's very well-rounded to suit a wide variety of genres.
On the low end, you'll appreciate the rich and deep bass. Thump-lovers might be slightly disappointed, as the amount of bass could be increased, but I would say that it's just right for most people's musical needs. In other words, there's just the right amount of bass to better complement more genres.
Mids and highs are good as well, being very clear and accurate. However, the highs will sometimes be a bit exaggerated, which could possibly be due to the headphones wanting to sound good for multiple genres.
For the majority of my testing, I've been listening to electronic/dubstep with a bit of rock/metal mixed in. It handles those without any problems, and it really did help enhance my music listening experience. I've been able to head things in the songs that I've never heard before, and that's always an appreciated bonus. You'll want to make sure that you're listening to high quality audio files with at least a bitrate of 256Kbps. Anything below that, and you'll easily be able to hear the compression. To take things a step further, you might want to configure your player's equalizer. I've been using a MacBook Air for the majority of my listening, and using the "electronic" equalizer did a good job for me.
9. Value
Many will say that Bose products are typically overpriced, and I'd have to agree with them to an extent. While you are certainly able to find a similar sounding pair of headphones for a much cheaper price, you're not guaranteed the good looks, audio quality, or comfort level that you get from the AE2s.
Conclusion
All told, the Bose AE2 around-ear headphones are an excellent pair of headphones to suit anybody who wants to take their audio listening experience up a few notches. They're a very safe pair of headphones to get, as they combine the best of audio quality, comfort, and support in an attractive package. So, if you're in the market for a great pair of headphones, look for nothing other than these.
Feel free to follow Brian and Gadget Unit on Twitter.
Video