Fast, fun, and free. That's what Fun Run is all about. Developed by dirtyBit, this side-scrolling 2D racing game will keep you coming. It's all multiplayer, so you and up to three other players can race each other, picking up various items and using them to your advantage.
Fun Run is easy to get used to. Its menu layout is simple to navigate, and is relatively appreciated overall. At the main menu, you'll see 5 buttons. The first one, located in the middle, is what takes you to the main game screen. On the bottom row, from left to right, we have the gear, which takes you to the settings. Next to that is the stats button. While Fun Run doesn't feature Game Center, it does have a friends system. Unfortunately, the lack of Game Center and push notifications means you'll miss race invites from your friend. Lastly, all the way on the right, there's a button which will take you to the character customization store.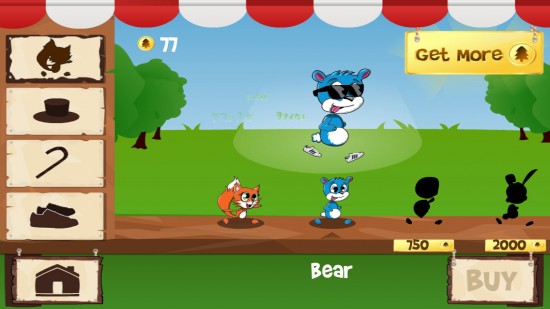 When you complete a race, you'll be given a number of coins depending on how well you actually finish the race. So, the better you finish, the more coins you'll get. These coins can then be used to customize the look of your character. These additions are purely cosmetic, so they won't, fortunately, give you any performance advantage over anyone else. If you're impatient, you can purchase more coins.
Now, it's time to play! There are three different areas to choose from. The first option is a practice mode, allowing you to play against the computer players just to get a feel for the game, or if you just don't have an Internet connection. The next option is Quick Play, which will immediately take you to a new game lobby. Lastly, there's a Friends area, allowing you to send invites to your friends to get a race going.
The game lobby is rather straightforward. There, you have a listing of the other players. Along the left side of the screen, you'll be able to choose which next map that you'd like to play. The forest maps are pretty simple, while the candy-themed ones are a little more advanced.
When you're finally into the game, there will be a 5 second countdown. Afterwards, the race will begin. In the lower-left corner, you'll find your first pickup. There are several to pick up, and each offer its own unique advantages and disadvantages. They take some getting used to, and they can really be used strategically. Sometimes, though, they might backfire and end up getting yourself sliced in half. You'll quickly figure this out once you start playing.
Each race is relatively short, usually lasting less than 90 seconds. At the end, you'll be taken to the results screen, which also displays your increase (or decrease) in your ranking, as well as how many coins you've earned.
If you're still reading this, then you're doing something wrong. Instead, you should be playing this game! It's completely free, and it's waiting for you, right now. Just be warned, this game is pretty awesome. If you tell yourself that you want to just play a few races, you'll actually end up playing several.
Feel free to follow Brian and Gadget Unit on Twitter.
Video